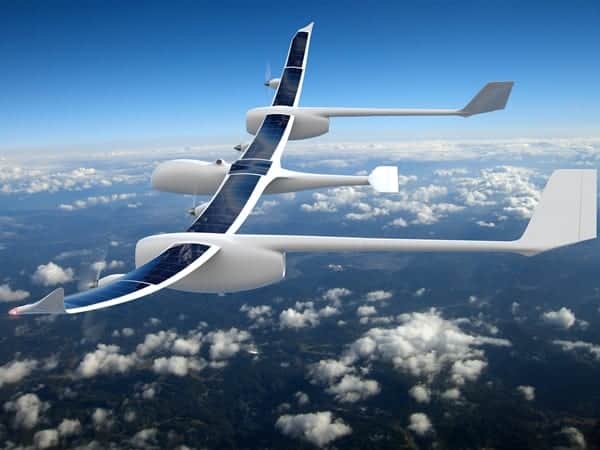 Alta Devices has announced that it has joined with other developers of high altitude technology to create the Upper Airspace Working Group (UAWG). This group will work to tackle the challenges and opportunities associated with high altitude missions. The UAWG's founding members are Facebook, Boeing, Google, Harris, Lockheed Martin, Northrup Grumman, Rockwell Collins, AeroVironment, General Atomics and Alta Devices. All these companies are working on major projects for flight at over 60,000 feet.
Previously, there was little activity in this section of airspace which is above typical commercial flight altitudes. Currently, multiple commercial projects are using technologies such as HALE (High Altitude Long Endurance) UAVs, high altitude balloons and airships. Applications include mapping, transportation, surveillance and infrastructure provisioning.
With multiple types of high altitude projects in development, one common thread is that solar technology will be a component of all of them. Solar is pivotal to the success of all high altitude technologies. These aircraft need to fly for as long as possible (multiple months) and so cannot rely solely on batteries or combustible fuel. Solar is required to provide reliable power for both extended propulsion and payload operation (eg. sensors, telemetry).
The UAWG will provide the AIA (Aerospace Industries Association) with strategic advice on coordination and standards for high altitude flight. One priority will be working with the global aerospace community on the development of international regulations to ensure safe and efficient operations in this airspace.
"The UAWG is bringing together a diverse field of experts from across the aerospace industry to tackle the shared challenges and opportunities associated with the high-altitude airspace. Facebook knows from experience that working with industry partners helps us all move faster and accomplish more, and we are excited to be part of this group," said Dave Hansell, public policy manager of Facebook, and chair of the UAWG.
With limited surface area, these aircraft must use high efficiency solar. Small modular solar cells ensure good packing efficiency which enables greater surface area to be covered. Alta Devices' high efficiency gallium arsenide (GaAs) solar technology is lightweight, flexible and modular. Lightweight solar cells help to minimize the amount of weight to be carried and have negligible impact on aerodynamics. Alta Devices' ease of integration meets the needs of high altitude innovators who wish to work quickly.
As Alta Devices' experience in this industry grows, the company continues to refine its solar technology to meet the growing requirements of high altitude aircraft manufacturers and operators.