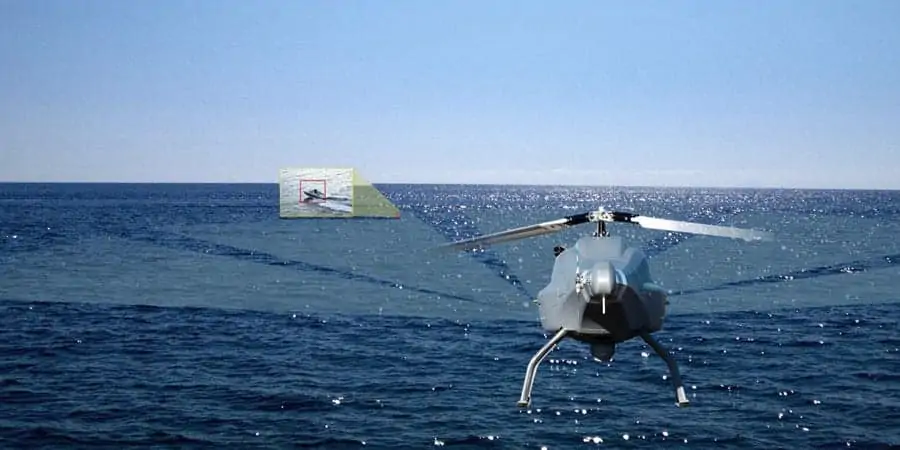 UMS SKELDAR has announced an agreement with Sentient Vision Systems to provide Sentient's ViDAR (Visual identification Detection and Ranging) system for its unmanned systems. The announcement was made at the 2017 Paris Air Show.
UMS SKELDAR will incorporate the ViDAR payload into its fleet of flagship VTOLs – the SKELDAR V-200, uniquely deploying five to ten cameras, providing between 180 and an optimal 360-degree maritime domain awareness for the first time.
ViDAR is a wide area autonomous detection system for electro-optic imagery in the maritime domain, enabling coverage over 80 times the ocean's surface compared with existing electro-optic sensors. ViDAR transforms the utility of tactical UAS by giving them a 'find' function for the first time.
"SKELDAR V-200 became part of our world-beating portfolio when Saab teamed up with UMS AERO just two years ago. Already recognised as the ideal UAV platform for navies worldwide and a range of maritime scenarios, development of this NATO-compliant platform is our strategic focus spearheading expansion of the business amongst maritime, military and civilian customers in global markets," explained Axel Cavalli-Björkman, CEO of the Swedish-Swiss joint venture between Saab AB and UMS AERO Group.
David Willems, UMS SKELDAR's Head of Business Development, explained that the incorporation of the ViDAR payload from Sentient was a logical extension of the strategy to ensure the dominance of SKELDAR V-200 in the maritime domain. "As we develop our maritime customer base, ViDAR is complementary to our on-board and payload capabilities, and will play an important role in developing our footprint for both ISR (intelligence, surveillance and reconnaissance) and SAR (search and rescue) operations."
"ViDAR proved during demonstrations to both the US Coast Guard and to the Royal Navy in late 2016 just how much of a game changing technology it can be for finding small objects over wide areas of the open ocean – transforming maritime domain awareness," said Simon Olsen, Sentient's Director of Business Development, Strategy and Partnerships.
Sentient's ViDAR optical radar autonomously scans the ocean around the air vehicle detecting any object on the surface of the ocean in real time. Ground Control Station operators are autonomously provided with an image and a location coordinate of each object found. Selecting any of those images cues the primary sensor to the object location for classification/identification.
In recent demonstrations, ViDAR has autonomously detected fishing vessels beyond 14 nm, fast boats at more than 17 nm and a person overboard out to 1.9 nm from the aircraft.