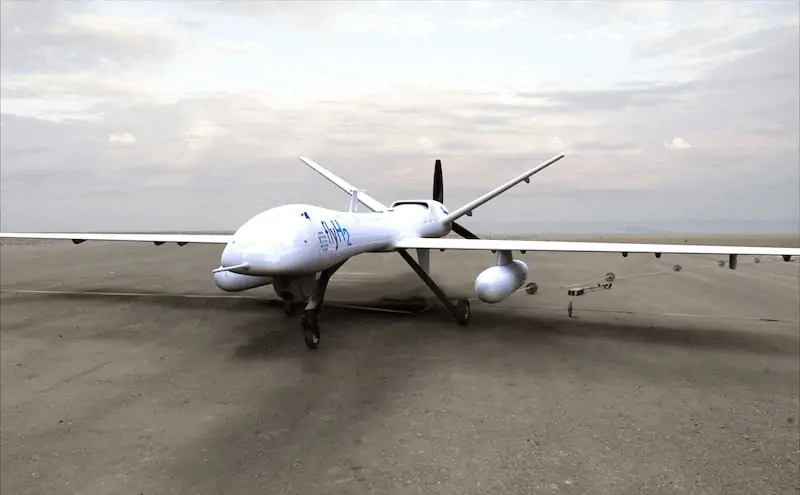 Ballard Power Systems has announced that the company's subsidiary, Protonex, has received an initial order for its fuel cell propulsion system, together with design services, from FlyH2 Aerospace, a developer of hydrogen fuel cell powered unmanned aerial vehicles (UAVs) for commercial applications.
FlyH2 plans to integrate the Protonex fuel cell system into all three of its aircraft currently in the development pipeline, beginning with the UA Plant prototype drone, followed by its UA Alpha flagship aircraft. UA Plant is expected to be a 30 kilogram (66 lb.) fuel cell-powered agricultural utility aircraft with 9-hour flight endurance.
UA Alpha will be a long-range, long-endurance survey and reconnaissance aircraft designed to carry advanced sensors. Specifications include a wingspan of 8.2 meters (27 feet), maximum cruising altitude of 4,250 meters (14,000 feet) and flight distance of more than 600 kilometers (370 miles). Onboard sensors will survey environmental variables used in the management of fires, pollution, erosion, alien vegetation and plant diseases. In a similar development, FlyH2's third drone, the UA Gecko, is being designed to monitor physical infrastructure, including roads, bridges, pipelines and powerlines.
Dr. Paul Osenar, President of Protonex said, "FlyH2 has tremendous expertise in the design and development of drone systems, and recognizes the benefits offered by fuel cell propulsion. When combined with improved reliability and other advantages over internal combustion systems, fuel cells are proving to be a high value fit for UAVs. These will be the first civilian drones that we have powered, in addition to our work on military UAVs with several global aerospace customers."
Mark van Wyk, Co-Founder of FlyH2 Aerospace added, "Protonex systems bring with them unique new capabilities for our aircraft, allowing us to quickly fulfill our vision of producing high quality, rugged and reliable long-endurance electric unmanned aircraft."
A fuel cell propulsion system allows for endurances comparable to an internal combustion engine, but with several added benefits. These include silent operation, increased reliability, lower vibration and less maintenance. The total cost of ownership is also expected to be lower and the aircraft will only require one fuel stop per day for all-day operations.
In agriculture, the use of unmanned aerial vehicles rather than conventional piloted aircraft, which sometimes operate as low as 150 feet above the ground, reduces the risk to pilots and also avoids noise abatement issues. In addition, the enhanced reliability of fuel cell engines further protects people and property on the ground.
To support integration of the Protonex fuel cell propulsion system into its UA Plant aircraft, FlyH2 has partnered with Epsilon Engineering, a South African engineering and manufacturing services provider. Project work is partially funded by the Government of South Africa as well as the South African agriculture industry.
Find suppliers of Fuels Cells for unmanned applications >