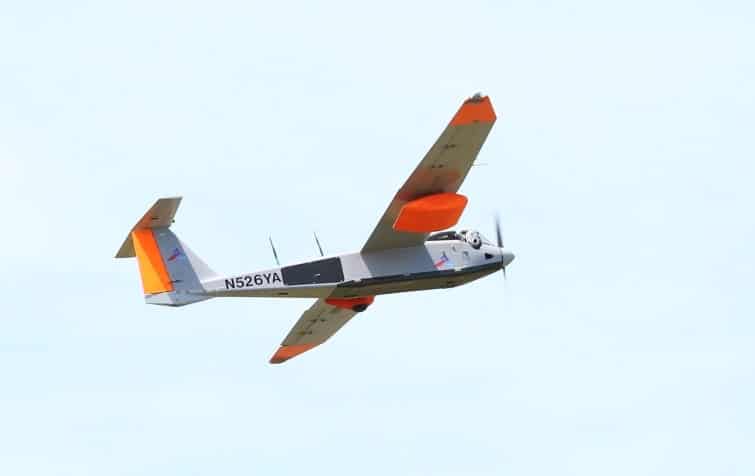 Verizon and American Aerospace Technologies have announced that they have developed new technologies allowing communications from a drone for disaster response.
First responders used smartphones to connect to a "flying cell site" and made calls and sent text messages back to their command centers during an emergency management exercise in Cape May County, N.J. The wireless coverage was provided by Verizon's Airborne LTE service aboard AATI's long-endurance unmanned aircraft system (UAS). The exercise was directed by the Cape May County Office of Emergency Management with exercise participants including the New Jersey State Police in a scenario designed as response to a category II hurricane.
During the exercise, emergency personnel were sent to Belleplain State Forest in a simulated "coverage-denied environment" where there is no wireless service. Nearby at Woodbine Municipal Airport, the AATI aircraft with Verizon Airborne LTE was launched and then flew to the forest. Once the "flying cell site" arrived, first responders were able to connect to the Verizon network through the wireless technology inside the drone, and communicate back to the County OEM and New Jersey State Police command centers. They also used social media applications on the smartphones.
"This exercise proved that this 'flying cell site technology' works in a real-world environment using smartphones off the shelf – in fact, we registered connections on Verizon customer devices beyond the phones we provided to first responders," said Christopher Desmond, Principal Engineer, Verizon Network. "Data gathered from today's successful flight will be used as we continue to optimize the 'pocket of coverage area' we can provide from an aircraft for disaster use in the future."
To conduct the flights, Cape May County received authorization under an 800 square-mile Certificate of Waiver Authorization (COA) that the FAA issued to the county for missions that serve a public purpose.