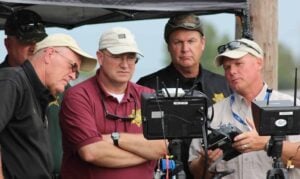 Avion Solutions, Inc. has announced a new partnership with the Tennessee Sheriffs' Association (TSA) to pay 10% of UAS training costs for any member of the Association who wishes to obtain Federal Aviation Administration (FAA) approval to operate an Unmanned Aircraft System.
TSA members can access Avion's Online UAS Training Portal through their vendor link. In addition to training, Avion will monitor all participants registered through the TSA portal and monthly payments will be made to the Association with proceeds to be used for anything the Sheriff's Association deems appropriate.
Avion has been instrumental in training many Tennessee Sheriff's Departments including Williamson County, Hamilton County, Lincoln County, and Hawkins County. This agreement however, is the first of its kind since Avion and its commercial branch, Avion Unmanned, launched their online UAS Training Portal in February.
Avion Unmanned is leading the push for safety standards and quality training that will support the long-term growth and adoption of drones by modern industry.  Designed and developed to prepare the growing number of drone users in the commercial sector, and especially in law enforcement, for the challenges they face in the operation of drones in National Airspace System (NAS), the UAS training portal offers self-paced remote training that encompasses recently released Federal Aviation Administration (FAA) UAS regulations. Those who complete the courses receive a Certificate of Authorization (COA) from the FAA.
"This is a great opportunity to work together to provide our Sheriffs access to professional UAS training and to provide funds back to the organization for projects that will benefit the TSA," says Terry Ashe, Executive Director of the TSA. "Avion has been a good partner for many years and we appreciate their support for our organization."
"The only way to be effective with a tool is to be properly trained how to use it," says Taylor Abington, Avion's UAS Program Manager. "By enrolling in Avion's online UAS training, you are sure to be trained to operate your UAS legally, effectively, and most importantly, safely."
Avion Unmanned is looking at customizations to the standard training packages to address specific needs and organizations, such as aerial photography for construction, mapping and photogrammetry, specific aircraft platforms, and programs that will only be available to police and emergency response units.
For more information about the Avion Unmanned Online Training Portal, course content and associated costs, visit www.AvionSolutions.com/unmanned.