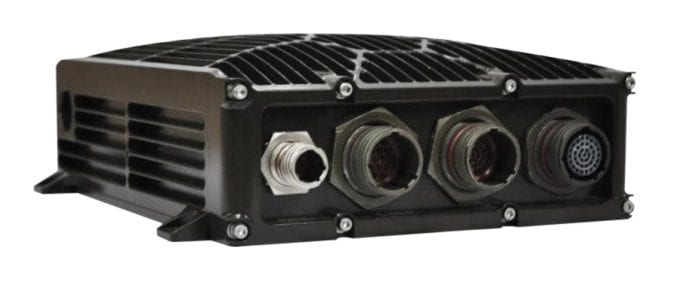 Phoenix International Systems has introduced the Phalanx II rugged Network Attached Storage (NAS) data storage system. The new product was introduced at the AUVSI XPONENTIAL 2017 trade show.
The cigar box sized (82mm x 215mm x 226.5mm) Phalanx II is SWaP optimized and provides high performance, high capacity and secure data storage for Unmanned Aerial and Underwater Vehicles (UAVs, UUVs) and airborne ISR applications. This small form factor NAS weighs less than 6 lbs, provides up to 16TB of storage capacity with two Solid State Disks (SSDs) and supports RAID 0 (mirroring) and RAID 1 (stripping). Hot-swap removable drives are optionally available. System configuration and management is provided via a convenient web based GUI or CLI.
Data security is a key component to any mass storage application and the Phalanx II addresses this with optional support for AES-256 encryption and hardware and/or software triggered Data Elimination.
The Phalanx II allows networked devices to share and store data using all common network services: NFS (V3/V4), SBM/CIFS, FTP, TFTP, RSYNC and SSH. It supports a variety of network based file systems that allow multiple hosts to share and store information. Network connections are provided through five load balanced Gigabit Ethernet ports, and it can support dual optical 10 Gigabit Ethernet ports for low EMI susceptibility.
Major Features of the Phoenix International Phalanx II NAS:
MLC or SLC Solid State Disk devices
Intel Broadwell (Xeon v4) CPU
Video: 1x VGA, 2x or 3x DVI Video Output
I/O: 5x GigE, 2x 10GigE, USB 2/3, Serial (RS232/422)
Monitoring via SMART, SNMP, EMAIL (Health/Performance)
Operational temperature from -40° to +71°C
38999 Connectors Standard
12-36VDC @ 25-75 Watts (Option Variable)
Optional AES 256 encryption
MIL-STD-810G, MIL-STD-461F, MIL-STD-704F/1275D
Find suppliers of Data Storage Solutions for Unmanned Applications >