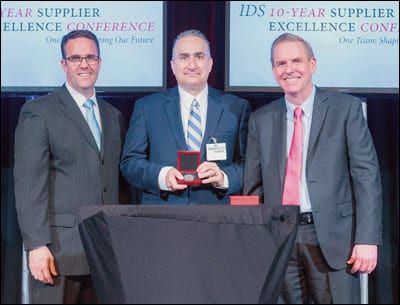 LCR Embedded Systems has announced that it has been honored by Raytheon with the Raytheon Mission Assurance Award, given in recognition of the company's alignment with the commitment of the global defense contractor to the US warfighter. The award was given to LCR Embedded during the Raytheon Integrated Defense Systems Supplier Excellence Conference.
Raytheon Integrated Defense Systems instituted the annual Supplier Excellence Awards program to recognize suppliers who have provided outstanding service and partnership. Out of Raytheon's 3,500 global suppliers, only four companies were chosen to receive the Mission Assurance Award. In addition to total alignment with Raytheon's commitment to US warfighters, each company under consideration for a Mission Assurance Award must also pass an accountability threshold and be understood to hold themselves accountable for the success of the missions that depend on its products and services as well as the potential impact on human life.
"It's incredibly gratifying to be recognized by all of our customers for how strongly we live our core values at LCR Embedded," said LCR Embedded Systems President David Pearson. "Our long history of mutual collaboration and achievement with Raytheon truly exemplifies how those core values and a joint commitment to mission assurance can truly drive excellence in the products and services we provide. Everyone in Norristown could not be happier or more proud of the recognition that this award symbolizes. We cannot wait to see what the future will bring for both companies, and the continued success with new programs."
LCR Embedded Systems' commitment to quality and strong relationship with Raytheon IDS has resulted in previous four- and five-star supplier awards, and the company was added to Raytheon's Preferred Supplier List in 2013. LCR Embedded Systems' role in the Patriot Air and Missile Defense System, AMDR, EASR, Aegis Combat System, and other Raytheon-supported programs also dates back over this period.