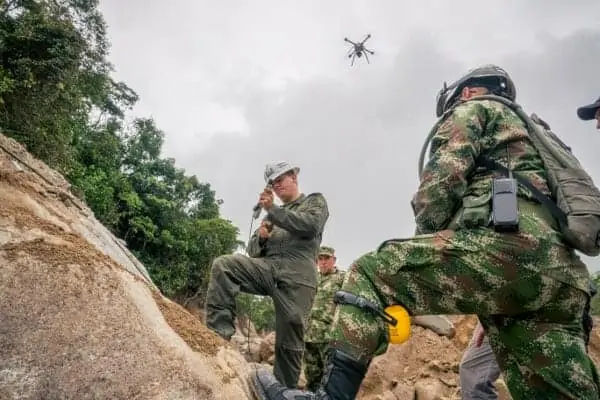 Pix4D has announced that its drone mapping technology has been used to support search & rescue operations in Mocoa, in the Putumayo province of Colombia. Recent unusually heavy rains in the area have caused floods and a massive landslide, resulting in over 300 people losing their lives and more than 4000 people being displaced.
The Colombian governmental agency coordinating the response, Unidad Nacional para la Gestión del Riesgo de Desastres (UNGRD), sent an international call for help. Canadian-based GlobalMedic's RescUAV team partnered up with Aeryon Labs and went to Mocoa to join forces with local emergency response organizations. In emergency situations, GlobalMedic's RescUAV provides imagery and 3D mapping for search and rescue and situational awareness.
In this particular situation, the limited data connectivity added complexity to the operation, and Brett Simms, RescUAV Team Lead, approached Pix4D's Paul Spaur, who has worked as a paramedic in search and rescue and on a law enforcement helicopter. Paul shared his experience using Pix4D solutions in emergency response to aid GlobalMedic's efforts.
"There is incredible use in generating fast and actionable maps during a disaster response. Incident Command can define areas of interest as .kml files, and disseminate them to multiple field crews. The crews can import their areas into Pix4Dcapture, fly a drone autonomously, and capture data. They can then move the images from the drone to a field laptop, and rely on the fully offline (and secure) processing capability of Pix4Dmapper Pro to make maps that can save lives," commented Spaur.
Equipped with a generator, two Aeryon SkyRanger unmanned aerial vehicles (UAVs), a laptop, and Pix4Dmapper Pro, the team was ready to face the challenge of operating in a disaster zone with a difficult terrain and limited power and data access.
"Throughout the mission, we relied heavily upon Pix4Dmapper Pro to provide orthomosaics and 3D models of our flight data for UNGRD and the other responding agencies, like Corpoamazonia and IDIGER," said Brett Simms of RescUAV.
RescUAV mapped over 200 hectares, accompanying emergency task forces, capturing imagery, video and generating 3D maps in the field, making it possible to assess terrain conditions on the go. These maps were also used by local authorities to quantify and manage critical infrastructure damage, identify areas that stood at risk of future floods and landslides and plan actions and infrastructure to allow displaced populations to safely return home.