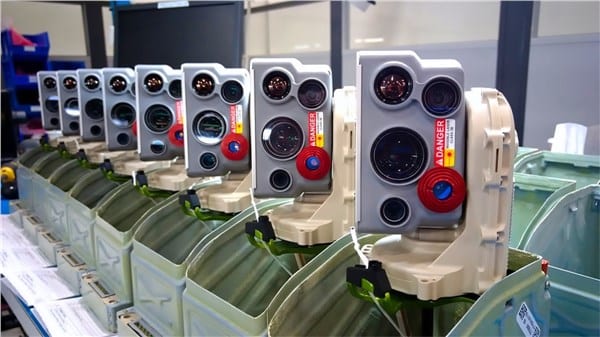 AeroVironment has announced that its Mantis i45 electro-optical/infrared (EO/IR) gimbal sensor suite designed for the AeroVironment Puma AE (All Environment) small unmanned aircraft system (UAS) has entered full production. The i45 Mantis significantly enhances Puma AE's intelligence, surveillance and reconnaissance (ISR) capabilities.
"With its dramatically improved imaging capabilities, AeroVironment's Mantis i45 gimbal is a powerful, versatile and high value tool that gives military users world-class ISR capabilities comparable to platforms many times the size and cost of Puma AE," said Kirk Flittie, vice president and general manager of AeroVironment's Unmanned Aircraft Systems business segment. "Puma AE, equipped with the Mantis i45 sensor suite, enables operators to see better and farther than ever before, providing more actionable intelligence so customers can proceed with certainty.
"In operations, the Mantis i45 reduces the likelihood of detection by increasing the distance between the Puma AE and areas of interest while still providing the clarity and image quality of a close-range asset," Flittie added. "The higher resolution imagery also aids in target analysis, positive identification and better enables operators to identify threats to friendly forces. By minimizing Puma's exposure to detection by the enemy, the Mantis i45 greatly improves its ability to complete reconnaissance missions safely and effectively."
The AeroVironment Mantis i45 features an advanced suite of ultra-high-resolution EO and long wave IR imagers as well as a new low-light camera for optimum operations at any time of day in a single payload. Its EO/IR/low-light/illuminator sensor suite – featuring dual-color, 15 megapixel (MP) cameras (wide and narrow views), improved (640 x 480 MP) infrared imagery, a new 1.5 MP low-light camera, a high-power illuminator, 50-times zoom in EO, optional on-board storage of high definition video and high-resolution stills, and a dedicated on-board image processor – delivers imagery and data both during the day and at night.
AeroVironment's Mantis i45 gimbal also provides the same electro-optical image resolution as its predecessor i25 gimbal at up to seven times the distance. Improvements in sensors, control algorithms and drive mechanics yield a greater level of mechanical stability in a small, waterproof gimbal system, augmented with improved on-board digital stabilization.
"AeroVironment is committed to continuous innovation that delivers more valuable capabilities to our customers. In addition to enhancing the software and delivering the real world reliability that customers expect from us, ensuring that the i45's hardware is flexible and customizable enough to meet their dynamic needs was a top priority," Flittie said. "AeroVironment's Mantis i45 design specifications exceed those of any previous Puma AE payload."
Size, weight and power (SWaP) were key design considerations. A payload module similar to that of the Mantis i25 Puma AE payload houses the Mantis i45 and installs quickly and easily in a plug-and-play manner onto the Puma AE platform. Its modular hardware is capable of supporting a wide variety of imagers, enabling rapid development of new configurations to meet future customer needs.
In addition, the Mantis i45 is backward compatible with deployed Puma AE systems. Its waterproof design protects against sand, dust, rain, salt fog, snow, mud and 100 percent relative humidity conditions. As with previous Puma AE payloads, the Mantis i45 retracts into the fuselage for launch and recovery to protect the sensors during takeoff and landing.
No modifications to the Puma are needed to incorporate the Mantis i45. Additionally, on-board power-conscious processors optimize its power consumption, resulting in minimal performance impact to the Puma aircraft while delivering improved capabilities.