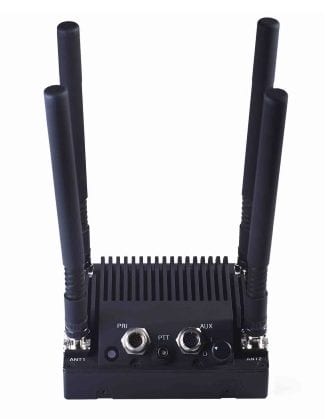 Silvus Technologies has announced that it will showcase its new StreamCaster 4400 radio at the AUVSI XPONENTIAL show. The SC4400 is a 4×4 MIMO radio that is designed for unmanned systems applications and transmits high-definition video, data and comms at near zero latency over long distances. It can be deployed as a point-to-point data link or as part of a comprehensive, self forming/self healing mesh network, and intelligently optimizes signal transmission in both line-of-sight and non-line-of-sight operations.
The SC4400 radio utilizes four antennas for true 4×4 MIMO, and is equipped with standard connections including Ethernet, USB, Push-To-Talk voice, RS-232 and a Wi-Fi port for connecting a phone, tablet or laptop to access the StreamScape user interface. This comprehensive network manager allows users to monitor signal strength, data rates and radio stats, and to test links and make adjustments. The spectrum scan diagnostic tool enables the user to analyze the available range of frequencies and select a channel that is free of interference. An embedded mapping display also enables nodes to be tracked in real time, providing a bird's eye view of the entire system.
"The StreamCaster 4400 delivers a significant increase in range and overall robustness, making it a great fit for larger aircraft," said Silvus Technologies Director of Sales, Kasey Cooper. "Our existing StreamCaster 4200 radio is also getting an upgrade with dual band capability, providing the ability to tune across two disparate bands for maximum reliability in a smaller form-factor. Together, the StreamCaster 4200 and the more powerful StreamCaster 4400 can be combined to optimize video, command and control and bi-directional data transmission for UAVs of any size, in any range."
Silvus Technologies is a developer of military-grade Mobile Networked MIMO (MN-MIMO) waveform technology, which comprises the core of the SC4400. Its distinctive beamforming ability boosts signal strength, reducing power consumption while increasing overall range. Silvus claims that the SC4400 is the world's first tactical MIMO radio to employ 4×4 MIMO transmit beamforming, an advanced method of signal processing that is capable of doubling the transmission distances that can be reached. MIMO's tenacious ability to bounce off obstacles and reroute signals also features prominently in the SC4400.
"We'll be performing live demos on the show floor to give just a small taste of the kind of wireless connectivity we can achieve," added Cooper. "We'll be showing how our StreamCaster radios operate with the latest UAVs and subsystems from Overwatch, Latitude and Isensys, to name a few."