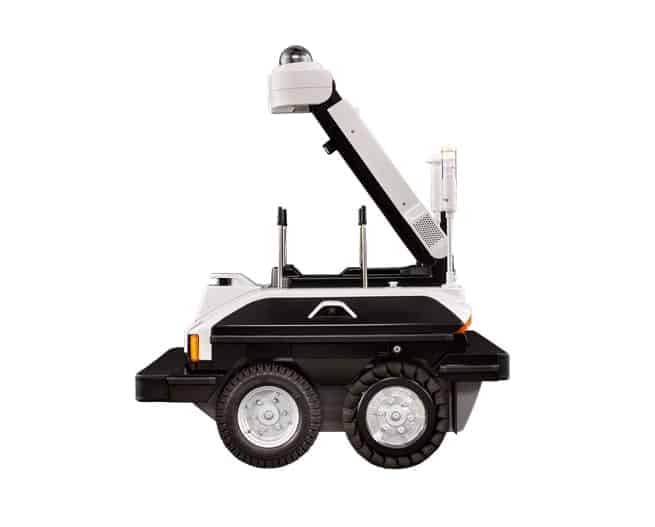 Rajant has announced that Sharp Electronics Corporation ("SEC") will use its Kinetic Mesh technology as the wireless communications infrastructure for the Sharp INTELLOS Automated Unmanned Ground Vehicle ("A-UGV").
The mobility, reliability and scalability of Rajant's network were key reasons for the company's selection. Its BreadCrumb radios, InstaMesh networking software, military-grade security and cryptography already support the autonomous applications and network infrastructures of many large companies.
"The Sharp INTELLOS A-UGV outdoor security robot is a strategic investment for companies that desire a visible deterrent to potential intruders as well as an A-UGV capable of managing repetitive tasks in dangerous environments," said Cliff Quiroga, Vice President of Sharp Robotics Business Development. "Capturing video, audio and environmental data, and communicating that information to a command & control center, requires an advanced network. Rajant's Kinetic Mesh wireless technology gives INTELLOS a best-in-class mission critical network infrastructure."
As a mobile platform capable of traversing various terrains, the Sharp INTELLOS A-UGV provides outdoor surveillance, security, safety and maintenance inspection patrols. The INTELLOS has an optional feature that can detect toxicity levels, capture images and sounds, and uses LIDAR (Light Detection and Ranging) to measure variable distances.
"The Sharp INTELLOS A-UGV extends the impact of traditional security forces, so it stands to reason that it would require a network infrastructure capable of supporting continuous connectivity and real-time communications of sensor and monitoring data," said Bob Schena, Chairman and CEO of Rajant. "Sharp made a commitment to bringing a best-in-class robot to market, and Rajant is proud of its contribution toward reaching that goal."
Rajant is the only wireless communications sponsor of the Robolliance program of which SEC is the founding sponsor. Robolliance educates the security industry about autonomous robotic products. Both companies will be exhibiting at the ISC West physical security industry event in the United States.