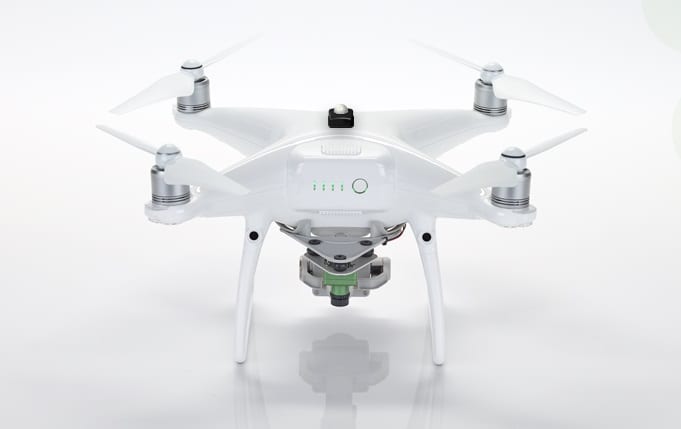 Sentera has announced that it has launched updates to its Incident Light Sensor (ILS) for use on NDVI-Upgraded DJI Phantom 4, Phantom 3, and Inspire drones. For several years, research customers have used the Sentera ILS to measure the color spectrum of incident light from the sun. These capabilities have been integrated into Sentera's sensors and AgVault software, making it easy for agronomists, crop consultants, and growers to accurately compare images of the same area, captured over time. Calculating absolute vegetation health regardless of cloud cover or timing lets the user focus on results and make in-field decisions with more accurate data.
"It's not practical to assume that NDVI data will be captured in uniform lighting conditions," said Kris Poulson, vice president of agriculture for Sentera. "Sentera's Incident Light Sensor augments our current TrueNDVI sensor offering by compensating for changes in the 'color' of sunlight that occur from hour-to-hour and day-to-day. This is especially helpful for users who battle unpredictable weather patterns, have large fields to manage, or who simply want to have the best data available."
The new sensor compensates for common environmental factors including shifting clouds, haze, and fluctuating solar intensity. Normalizing these changes helps users more accurately identify stressed, or troubled areas of a field, allowing them to make more accurate input decisions.
Removing incident light biases is essential to capturing accurate NDVI data. Poulson continued, "Variances identified between compensated NDVI data are more likely to indicate a true change, like a physical or chemical change in the plant or crop, instead of a change that's simply due to a picture captured on a sunny day versus a cloudy day."
Capturing NDVI imagery with Sentera's Incident Light Sensor provides users with day-to-day, hour-to-hour, and minute-to-minute data set comparisons. All calibrated NDVI data flows into Sentera's AgVault Software for in-field action while flowing off the farm as needed.
Sentera's Incident Light Sensor can be installed on new or existing DJI Phantom and Inspire drones with an NDVI Upgrade and easily attaches to the outside of the platform. The AgVault Mobile application automatically accounts for the additional sensor.