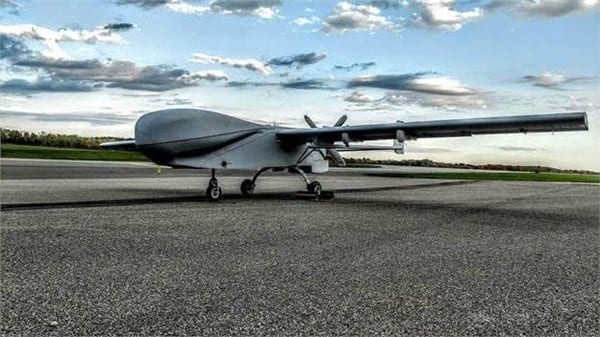 The ArcticShark, a new unmanned aircraft system (UAS) designed to collect sophisticated atmospheric data in the Arctic, is to begin flight testing at Pendleton UAS Test Range prior to its scheduled launch in 2018.
To be owned by the U.S. Department of Energy (DOE) and managed by the Atmospheric Radiation Measurement (ARM) Climate Research Facility, a DOE national scientific user facility, the ArcticShark will eventually be equipped with more than a dozen different instruments designed to record the most sophisticated measurements ever gathered about Earth's atmosphere and thus help scientists better understand one of the most sensitive regions of the planet.
With a wingspan of 22 feet and a gross takeoff weight of 625 pounds, the ArcticShark can fly up to 15,000 feet and has a maximum speed of 75 miles per hour. Flight testing and pilot training of the ArcticShark at Pendleton is expected to take place almost daily from Feb. 27 through March 17. The UAS is scheduled to begin field research in Alaska starting in 2018.
The past year has been a concentrated effort by the Pacific Northwest National Laboratory (PNNL) in Richland, Washington, which manages the ARM Facility, ArgenTech Solutions (AgTS), Pendleton UAS Range, and the University of Alaska, Fairbanks to obtain Federal Aviation Administration (FAA) flight approvals and build the concept of operations for ArcticShark.
"We are pleased to provide program development, flight approval expertise and safe operations support to PNNL for their Class D operations. We are paving the way for the evolving integration of Unmanned Aircraft Systems into the National Airspace System (NAS) and we're pleased to be assisting in those test objectives," stated Jen Armstrong, vice president AgTS Commercial Services.
"The City of Pendleton and the State of Oregon have invested a tremendous amount of time and resources toward developing a premier UAS test range in eastern Oregon," reported Steve Chrisman, economic development director and airport manager for the city of Pendleton. "PNNL was the first organization to approach us about using the range, so it's nice to see everyone's hard work come to fruition. This is really just the beginning of a new age in aviation."
"As Oregon's UAS industry facilitator, we're pleased that the DOE has selected our Pendleton range to conduct testing on a UAS that will help scientists around the world to understand our planet more fully," said Earl Bowerman, executive director of SOAR. "One of the most exciting aspects of UAS research and development is its potential to help solve our most critical global challenges."