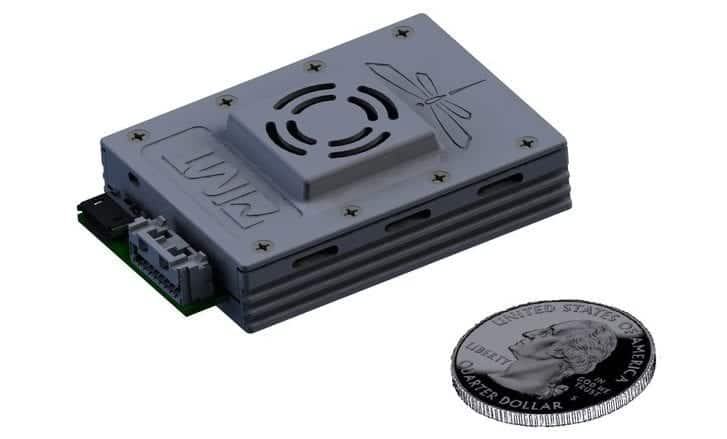 Integrated Microwave Technologies (IMT) has announced the availability of the DragonFly, an ultra-miniature wireless video system offered in a range of kits to fit various applications, including unmanned aerial vehicles (UAVs). Each offering caters to the specific needs of the application. The DragonFly has a compact and lightweight form factor and features minimized power requirements, making it ideal for drone and mobile use.
"We realize the broad range of possibilities the DragonFly offers, which is why we designed multiple variations of the product to fit many applications," said John Payne IV, president of IMT. "With the DragonFly achieving ultra-low latency, users can utilize it for remote control applications, making it the most reliable transmitter on the market."
The DragonFly features HD/SD-SDI or optional HDMI inputs and delivers up to 50mW of power in a package measuring 1.85″ x 1.38″ x 0.51″ (50 mm x 35 mm x 13 mm) that weighs less than 1.2 oz. (34 g), providing long range, reliable HD video transmission. IMT's COFDM technology ensures the transmission of uninterrupted, live TV pictures over two miles Line-of-Sight (LOS), even in the presence of foliage, challenging terrain, buildings and other common non-line-of-sight limitations. The DragonFly also features internal ISM and GPS anti-jam filters and is available in licensed and unlicensed frequency bands.
Each DragonFly kit comes with various accessories, including mounting accessories, a microdrone ultra-small omni antenna, an HDMI or SDI extension cable and a DC integration power cable. Addition optional accessories include an ultra-small HD-SDI camera with various lenses, and RS-485 and S-Bus cables.
The DragonFly is managed through a WiFi webpage. An Android or iOS device can detect the encrypted WiFi signal and automatically open a browser window. Additionally, the DragonFly supports RS485 control channels and S-Bus controls through a 900MHz transceiver. The transceiver provides bi-direction controls of the transmitter, accessory camera, gimbal controls and more.
The DragonFly is compatible with IMT's full line of receivers, including the IMT Direct VU HD handheld receiver, DR3 and CRx.