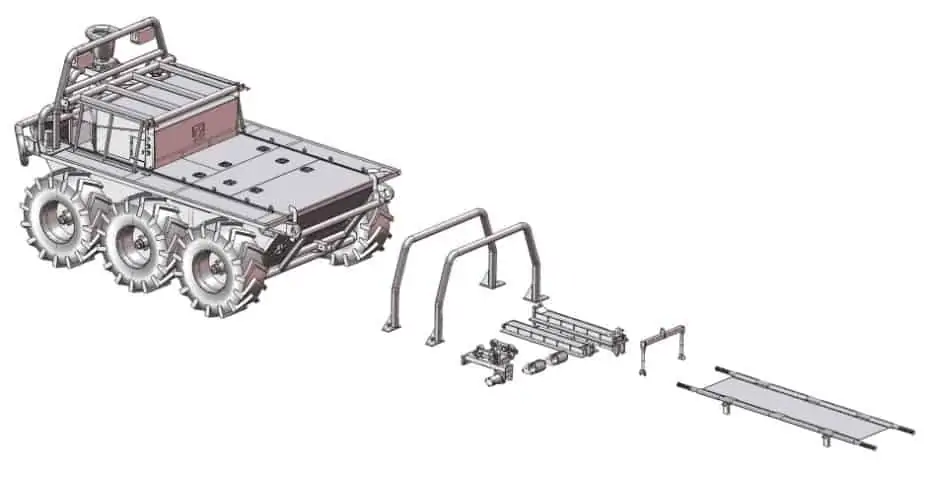 RE2 Robotics has been awarded a Phase II Small Business Innovation Research (SBIR) grant from the US Army SBIR office and U.S. Army Telemedicine and Advanced Technology Research Center (TATRC) to develop robotic technologies to assist combat medics in the field.
The combat medic is one of the most dangerous and demanding responsibilities in warfare. Often in the course of reaching, assessing, and treating a wounded soldier's injuries, the combat medic and other personnel are placed directly in harm's way. As a result many medics and soldiers have been injured or killed while trying to save others under hostile conditions. There is on-going interest to understand how unmanned systems can be used to reduce the risk of injury to the combat medic and other personnel when attempting to rescue and extract wounded soldiers in hostile or dangerous situations.
The objective of this program is to develop and demonstrate an innovative and novel medical module payload for future military unmanned ground vehicles (UGVs) that enable a single medic/medical support person to evacuate a combat casualty. With this medical module payload one person is able to accomplish the extraction instead of the normal two which results in a force multiplier for the squad. RE2's medical module payload, called LIFELINE, will assist combat medics in maneuvering and evacuating wounded soldiers under extremely hostile conditions.
RE2 researched, designed and developed a LIFELINE prototype during Phase I of this SBIR program. The goal for Phase II will be to continue refining the design with major emphasis placed on weight reduction to reduce the burden on the soldier during installation. A final prototype will be developed to conclude the Phase II of this program.
"Our team is honored that the Army has selected RE2 once again to further develop technology to help improve the safety of our brave military personnel while in hazardous combat situations," stated Jorgen Pedersen, president and CEO of RE2. "The LIFELINE technology, in addition to our Patient Assist Robotic Arm and the ARIBO Assistive Arm programs, further extends our reach into the Healthcare market."