The UK's Defence Secretary, Sir Michael Fallon, has agreed a £100M contract with General Atomics Aeronautical Systems Inc. to develop their current drone technology into new cutting-edge unmanned aerial vehicles for use by the Royal Air Force (RAF).
Defence Secretary, Sir Michael Fallon said:
"Britain faces ever-evolving threats and we must look at innovative solutions to stay ahead of our enemies. Doubling our unmanned air fleet will substantially enhance both the intelligence gathering and firepower of the RAF.
The UK's security partnership with the US is the deepest and most advanced of any two nations on earth; this programme is part of a further strengthening which will help keep Britain safe and secure.
Protector will be equipped with the very latest technology, including advanced imaging and enhanced datalink technology. There are also plans for Protector to be armed with UK-made Brimstone 2 missiles and Paveway IV laser-guided bombs."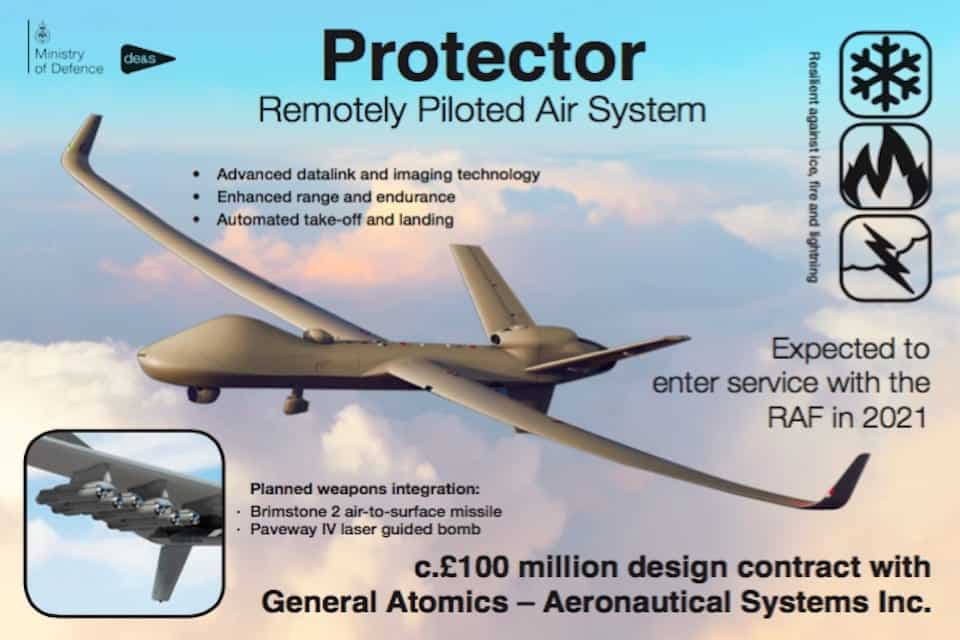 Sir Michael Fallon is in the US as a keynote speaker at the annual Reagan National Defence Forum, in California, where he will meet US Secretary for Defence Ash Carter and the Chairman of the Joint Chiefs, General Dunford.
Speaking at the Forum, the Defence Secretary underlined the enduring strength of Britain's relationship with the US in defence, security, and innovation. The close collaboration between the two countries on innovative future defence technologies was emphasised recently in a joint agreement to explore the impact that robotic and autonomous systems might have on resupplying the military, with the first demonstration due next October.
Chief Executive Officer of the MOD's Defence Equipment & Support organisation, Tony Douglas, said:
"Protector is a highly advanced system which will use world-beating technology to give us a decisive advantage on the battlefield. This contract signature is not only great news for our armed forces, but demonstrates how the strong relationship between UK Defence and our allies helps to ensure best value for the taxpayer.
Building on our current Unmanned Aerial Vehicle capability, the next-generation Protector will offer improved range and endurance, greater weapons capacity, automated take-off and landing and better resilience against the elements. "
"We are delighted that our first foreign customer for Predator B also will be our initial customer for Certifiable Predator B," said David R. Alexander, president, Aircraft Systems, GA-ASI. "We have been honored to support the UK's ISTAR [Intelligence, Surveillance, Target Acquisition, Reconnaissance] needs over the past decade and look forward to satisfying its emerging requirements for a MQ-9 Reaper replacement than can be certified to operate in both controlled and uncontrolled airspace."