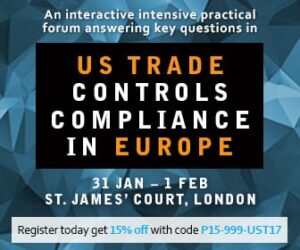 C5, a leading defence control and compliance event organiser, will be holding the fifth annual EU conference on US export controls in London on 31 January and 1 February 2017.
The event seeks to help companies understand the impact of Brexit and the US presidential election, the latest liability rulings as a result of the Yates Memo, the risks and benefits of the new Voluntary Disclosure requirements and critical differences between US and EU controls.
Aimed at companies working with US controlled items, whether dual-use, military or both, the event offers practical advice and tangible takeaways from leading officials to cut through the red tape and enable businesses to better navigate the complicated world of export control compliance.
The conference programme gives businesses access to real-life scenarios covering data marking, ITAR project management, differing definitions under the US, EU and Wassenaar Arrangement, cloud computing, ITAR audits and voluntary disclosures.
A new feature for this year's event includes interactive audience participation scenarios, providing even more ways to ask questions and discuss real-life issues faced daily by international trade compliance and export control professionals.
Key speakers include:
Kevin Wolf, Assistant Secretary of Commerce for Export Administration, US Department of Commerce on complying with US export controls – this session is a Q&A format and is open to audience questions
Sue Gainor, Former Director, Defence Trade Controls Compliance, US Department of State on voluntary disclosures
Fred Shaheen, Chief Counsel, Global Trade for Boeing on over coming the challenge of inconsistencies between conflicting export control regimes
Andrew Wood, Director, Strategic Trade Controls for Rolls Royce on how to file voluntary disclosures
Susan Griffiths, Head of Export Controls UK, MBDA on EU defence companies' ultimate guide to complying with local and foreign regulations.
Plus, a pre-conference workshop aimed at giving a comprehensive overview of the key concepts of US export controls, including Export Administration Regulations (EAR) and the International Traffic in Arms Regulations (ITAR), jurisdiction and technology control, assessing risks, how to protect your company from accidental violations, best practices and more. Perfect for brushing up knowledge, professionals who are new to ITAR and EAR compliance or those who work indirectly but need a working knowledge of regulations and how to comply.
With 13 presentations throughout the day including other companies such as Selex, Oppenhoff & Partner, OHB AG, Rockwell-Collins, General Dynamics, GE Aviation Systems, C5's Conference is set to be the key event dedicated to US controls and compliance in Europe.
"The Speakers did not just regurgitate the regulations but brought them to life through real-life scenarios and strategies to deal with the inevitable issues."
Previous attendee, Head of Governance, QinetiQ
C5's Forum on US Trade Controls and Compliance in Europe runs at St. James' Court, A Taj Hotel in London on 31 January and 1 February. All details and delegate passes are available at C5-Online.com/TradeControls
Unmanned Systems Technology readers receive a special 15% discount on passes using code P15-999-UST17. Please contact +44(0) 20 7878 6888 for more details.