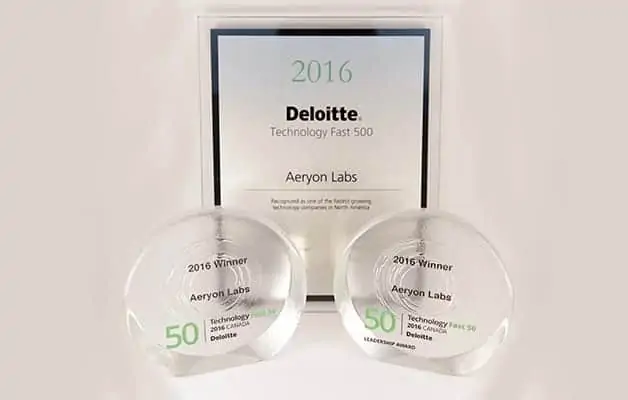 Aeryon Labs has announced that it has been ranked 24th in the 2016 Deloitte Technology Fast 50 awards as well as 214th in the North American Technology Fast 500 ranking.
The Technology Fast 50 program celebrates the achievements and evolution of the Canadian technology sector. The program augments the broader Deloitte North American Technology Fast 500 initiative with winners automatically eligible for this elite ranking.
"To be recognized a third consecutive year as a Deloitte Technology Fast 50 company is truly an honour," commented Dave Kroetsch, Aeryon President and CEO. "This acknowledgement validates Aeryon's lead in the rapidly growing sUAS market, as well as the team's growth and continued dedication to the success of our customers."
"Fast 50 companies are the cutting-edge innovators leading the technology industry in Canada," said Anders McKenzie, Technology, Media and Telecommunications Managing Partner for Deloitte in Canada. "Their bold vision, unrivaled growth and true commitment to innovation allow them to not only improve today's world, but also shape tomorrow's."
To qualify for the Deloitte Technology Fast 50 ranking, companies must have been in business for at least four years, have revenues of at least $5 million, be headquartered in Canada, own proprietary technology, conduct research and development activities in Canada and invest a minimum of five percent of gross revenues in R&D.
Aeryon was also among five Ontario-based companies honoured with the prestigious Technology Fast 50 Leadership award for their innovation and leadership in their respective industries.
Deloitte Technology Fast 50 Leadership Award winners are selected on their ability to create a distinct competitive advantage in a high growth market. The awards are presented to Deloitte Technology Fast 50 qualified companies that demonstrate technological leadership on four key criteria: competitive advantage, growth and market attractiveness; management effectiveness and organization; and financial performance.