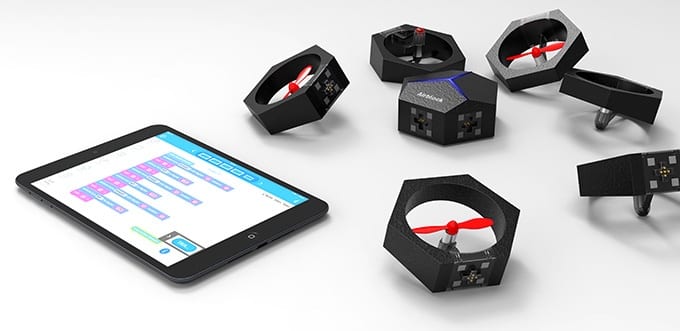 Robotics startup Makeblock has announced the release of Airblock, a modular six-axis drone that transforms into various flying configurations, including hexacopter and hovercraft. Airblock consists of magnetic, modular parts that can be assembled and disassembled without tools.
Included in each set are a control core, a hovercraft base, six blade modules, six spare blades, ten blade shields, one wall charger, one lithium-ion rechargeable battery and one USB cable. The central processor, motors and rotors are all enclosed in a soft foam frame. The pieces snap together using magnetic connectors, and the large styrofoam base can be configured with these to construct a hovercraft that moves over water or smooth terrain.
The Airblock can be controlled via the Makeblock app (available in iOS and Android formats) which offers one-touch operation for take-off and aerial stunt performance. Using a drag-and-drop coding language, the app can also program aerial routines and customized stunts. The user can also commandeer Airblock using the joystick controls.
Makeblock as a company focuses heavily on robotics and STEM concepts (science, technology, engineering and math) and the Airblock is a starter drone that fits that agenda.
Flight time from a single charge is approximately six minutes. In an open area, the Airblock can attain a vertical height of 16 feet and a horizontal distance of 50 feet. As an aircraft, the unit measures 235 mm x 54 mm. As a hovercraft, it measures 335 mm x 208mm x 126mm.
When the mobile device is powered off or Bluetooth connection is lost, the Airblock will hover and automatically land.