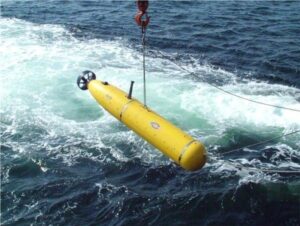 Liquid Robotics, a provider of long-duration unmanned ocean robots, has announced a new business and technology partnership with Maritime Robotics, a system integrator of autonomous maritime systems. Joining Liquid Robotics' Open Oceans Partner Program, Maritime Robotics is now an authorized partner to sell Liquid Robotics' Wave Gliders and associated mission and integration services to customers throughout the Nordic countries of Norway, Sweden, Denmark, Finland, and Iceland. The Maritime Robotics partnership brings valuable expertise in creating and delivering high value, sustainable maritime solutions for applications of maritime security, fish tracking & monitoring and meteorology and oceanography. Additionally, this partnership will address the emerging commercial applications of wind farming, aquaculture and commercial flight tracking.
One of the first customers from this partnership is flight tracking service Flightradar24. The company is currently undergoing sea trials to test ocean-based ADS-B reception with Wave Gliders. Wave Gliders have the potential to fill the current air traffic communications tracking gaps that exist over remote ocean expanses.
"The Nordic countries are innovating at a rapid pace and generating increasing industry demand for autonomous maritime systems," said Daniel J. Middleton, Executive Vice President of Global Sales and Business Development, Liquid Robotics. "To address this growing market, we are excited to partner with Maritime Robotics to deploy advanced autonomous systems that improve our clients business and provide greater maritime security for their country."
This partnership combines the companies' unmanned systems technology expertise, partnerships and solid track records for safely conducting ocean missions in the harsh Nordic seas. Together, with the Wave Glider's over 1.1M nautical miles at sea and environmentally safe operation, the two companies will work to create sustainable solutions for the Nordic countries' commercial and maritime security customers.
"With a decade of working with Unmanned Surface Vehicle (USV) systems and application development, we are now seeing the USV market moving away from the technology push phase over to a more mature business, where users and USV industry join forces to create new opportunities," said Vegard Evjen Hovstein, CEO of Maritime Robotics. "We see many possibilities for the use of the Wave Glider in our Nordic region, and are thrilled to join forces with the team behind the best energy harvesting USV in the world, the Wave Glider."