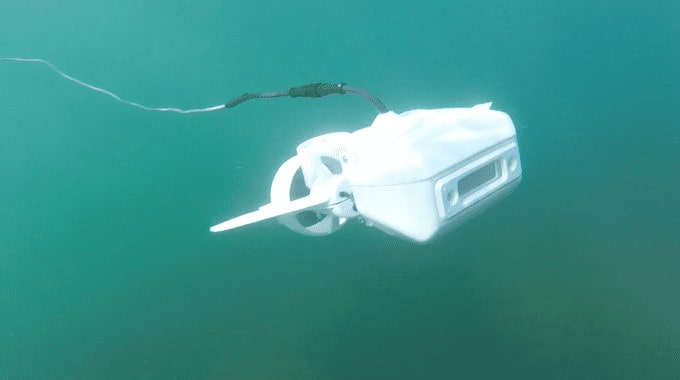 Fathom, an underwater drone technology startup, has released details of its Fathom One underwater drone.
The Fathom One is designed to be easy to use, highly portable and fully modular. The drone is connected to a provided Wi-Fi buoy, which is then wirelessly linked to using the Fathom app on any smart device. All three of the drone's thrusters clip on and off, allowing the user to easily customize, upgrade or travel with their device. The Fathom also includes integrated rail systems for further customization.
"Ease of use is something we obsess over at Fathom. You can build the most capable product in the world, but unless everyone can easily pick it up and use it, it's not worth much in our eyes," said lead designer John Boss. "With our design, we promise you'll be able to become a pro at piloting the Fathom One the first time you take it out."
The Fathom One can run up to one hour on a single charge and reach speeds of up to 3 knots. Each drone also comes equipped with an HD 1080p onboard camera, 100 feet of tether that attaches to a custom floating buoy and built-in 3W LEDs for clear viewing, even at depths of 150 feet or at night. Users can also share what they see by recording and uploading their underwater footage to social media using the Fathom app. Additionally, the Fathom One's integrated rail system allows individuals to attach action cameras, extra lights and additional sensors.