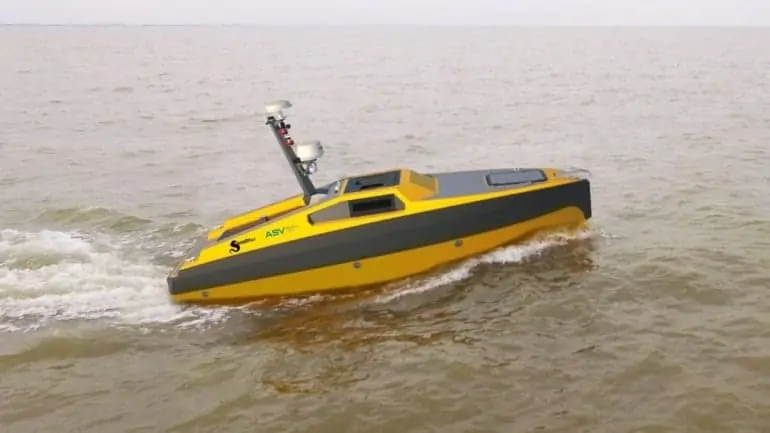 ASV Global, a developer of unmanned and autonomous surface vehicle technology, has announced that it is to design and build six brand new Unmanned Surface Vehicles (USVs) for underwater engineering organization SeaTrepid DeepSea.
The vehicles will be used in a multiple autonomous vehicle program developed by SeaTrepid DeepSea combining USVs and Autonomous Underwater Vehicles (AUVs) to conduct wide area, high-resolution surveys.
Derivatives of the established 'C-Worker' range of ASV Global platforms, the new bespoke 'SeaWorkers' will each be fitted with an acoustic underwater positioning system to track the AUVs throughout shallow and ultra-deep waters. Using USVs to track the AUVs brings a step change in operational efficiencies with significant cost savings compared to using a traditional ship.
Dan Hook, Managing Director, ASV Global said "We are delighted to be supplying six new USVs into this ground-breaking project. The SeaWorkers have been designed specifically as a ruggedized workboat, capable of carrying large payloads and handling varying weather conditions and water depths. The ASView Control System will allow for the reliable and safe operation of the six vehicles".
Jake Klara, Commercial Manager, SeaTrepid DeepSea said "The USV's are a vital piece of the Multiple Autonomous Vehicle Program allowing for tracking and communication between the AUVs and Host Surface Vessel (HSV). Having a quality USV developed by the leading manufacturer was essential for us to produce successful results to our clients."
The 7.6m long 'SeaWorkers' are being built at ASV Global's production facility in Portchester, UK before undergoing sea trials and being shipped to SeaTrepid's base in Louisiana, USA.