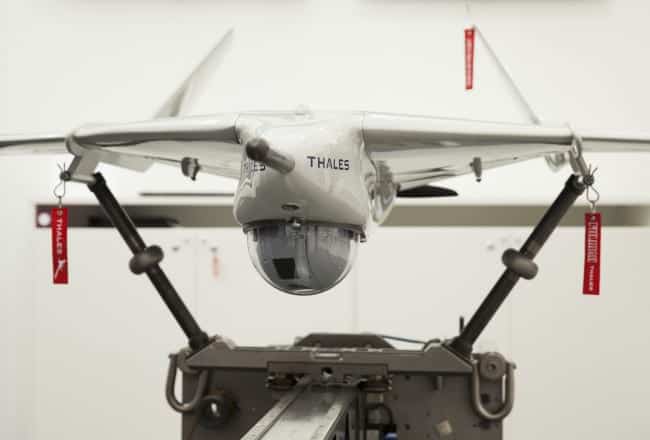 Thales has announced the launch of Fulmar X, an Unmanned Aerial Vehicle (UAV) system designed to meet the needs of both military and civil customers in order to suit a wide range of surveillance missions, such as border surveillance, natural disasters, and illegal traffic monitoring. Fulmar X delivers high endurance and high-quality aerial intelligence using a small, flexible air platform with low running costs.
The Fulmar X system's capabilities include an endurance of over 8 hours and an operating range of more than 80 km. Built entirely from carbon fibre composite, the UAV has a 3 metre wingspan. It is launched using a catapult and recovered automatically with a net, which can be operated in very confined areas such as a ship or vehicle. The recovery system is available in a number of configurations for quick, easy deployment from a fixed location with no dedicated infrastructure.
"The Fulmar X system from Thales provides an excellent balance between performance and ease of operational deployment. Its modular architecture supports multiple configurations so the system is suitable for a broad range of surveillance missions yet remains extremely competitive in terms of operating costs," commented Pierre Eric Pommellet, Thales Executive Vice-President, Defence Mission Systems.
The UAV carries a combined EO/IR sensor so that operations can continue into the night. With its modular design, the Fulmar X system can readily be fitted with other equipment such as AIS automatic identification system or Mode 3/C transponder to meet the requirements of each customer and mission.
Find suppliers of Fixed Wing UAVs >
Fulmar X makes extensive use of off-the-shelf technology to benefit from the latest developments in sensors and engines, while complying with the highest standards of reliability and safety. Deployed as a stand-alone system or fully integrated to wider surveillance systems, Fulmar X is also designed to share its intelligence.