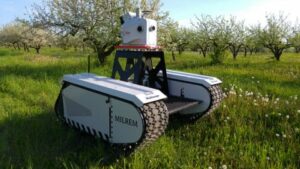 Milrem, a defense technology company, and Leica Geosystems, a developer of measurement and survey solutions, have announced Pegasus:Multiscope, an unmanned ground vehicle (UGV) developed for off-road use, particularly for applications in surveying, security, and monitoring.
Combining Milrem's Multiscope UGV and Leica Geosystems' Pegasus:Two mobile mapping sensor platform, the UGV provides faster, cost-effective, and flexible technology for commercial and government use, including civil engineering and security applications.
Milrem and Leica Geosystems will demo Pegasus:Multiscope during the HxGN LIVE conference.
Pegasus:Multiscope is ideal for industries that can gain from automating processes to eliminate physical risk, such as surveying challenging terrain for civil engineering infrastructure projects, agriculture, or in hazardous areas such as near nuclear power stations or areas of intense conflict. The UGV's low ground pressure allows it to traverse any type of terrain, including mud, sand or snow and when combined with the Pegasus:Two's multiple sensor options, the applications are unlimited.
For automated border patrols, Pegasus:Multiscope can follow a pre-programmed route and detect disturbances. Using the cameras calibrated to the 3D point cloud from the Pegasus:Two, change detection with Leica MapFactory for AutoCAD can be seen within 2 to 3 cm. If more detailed base maps are required, thermal imaging is also available on the Pegasus:Two.
For civil engineering use, the UGV is able to more easily and cost effectively traverse potentially dangerous or difficult areas, such as unstable riverbanks when surveying for dam construction.
Ground level autonomous monitoring of large-scale farming offers the potential of real-time essential data for improved productivity. The Pegasus:Multiscope can provide the data for critical agricultural decisions such as smart monitoring for field drainage or ripeness.
"The Pegasus:Multiscope proves how far UGVs have advanced to help significantly increase efficiency in civil engineering, border patrol, and a range of commercial applications," said Kuldar Väärsi, CEO, Milrem AS. "We're thrilled to partner with Leica Geosystems for the first product in the Multiscope modular UGV series and demonstrate how our combined technology offers reduced labor costs, faster results, and much higher reliability than existing options."
"We live in an ever-changing world where difficult terrain can prohibit our abilities to advance. We can now overcome these challenges with the Pegasus:Multiscope, enabling mobile mapping to be carried out in places unreachable by traditional vehicles," said Stuart Woods, vice president of Leica Geosystems Geospatial Solutions Division. "Knowing Milrem's pioneering reputation, we are proud to partner with this solutions provider to bring a flexible and robust autonomous platform that speaks to our organizations' combined innovation."
Technical specifications of the vehicle include:
Maximum speeds of 15-22mph
Zero turning radius
Ground Pressure: 0.98 psi – 1.635 psi
Driving capability up to 45° rise
Base length of 79", width of 36-83" and height of 38.5"
Weight 1985LBS
Payload 1655LBS
Pulling force 11 000 N"
Power source diesel generator, Li-Ion battery packs and graphene ultracapacitors that allow for up to 10 hours of nominal work use
Multiscope is the second UGV platform created by Milrem. The company previously introduced THeMIS (Tracked Hybrid Modular Infantry System), a fully modular hybrid unmanned ground vehicle developed for military applications such as C-IED (Counter Improvised Explosive Device).