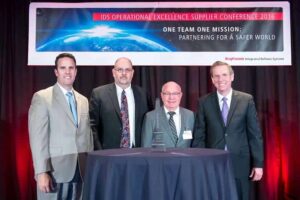 LCR Embedded Systems has once again been recognized for its quality, performance, and focus on total customer satisfaction by Raytheon Integrated Defense Systems (IDS) at an award ceremony held in June 2016 in Danvers, MA.
LCR was one of only 24 companies to be presented with the coveted Five Star Supplier Excellence Award. This is the highest honor that can be achieved by a Raytheon IDS supplier. Suppliers must achieve 100% on-time delivery, provide product with a 100% quality record, and have implemented a continuous process and performance improvement program.
"LCR Embedded Systems is absolutely delighted to be recognized by Raytheon IDS for the quality of our work, but also because the award demonstrates the depth of our commitment to helping Raytheon IDS and our other customers achieve their all-important missions," said LCR Embedded President Nissen Isakov.
LCR Embedded Systems' commitment to quality and strong relationship with Raytheon IDS has also resulted in previous four- and five-star supplier awards, and the company was also added to Raytheon's Preferred Supplier List in 2013.
Raytheon's Integrated Defense Systems business instituted the annual Supplier Excellence Awards program to recognize suppliers who have provided outstanding service and partnership in exceeding customer requirements. Award candidates are judged on certain criteria, including overall quality, on-time delivery and demonstrated commitment to continuous improvement. A 5-Star recognition is the highest level of recognition a Raytheon Integrated Defense Systems business supplier can achieve for excellence in quality and performance.
LCR Embedded Systems' role in the Patriot Air and Missile Defense System, the Aegis Combat System, and other Raytheon-supported programs also dates back over this period as well. Their backplanes, chassis, and supported legacy equipment can be found on ground mobile, shipboard, and airborne installations all over the world.