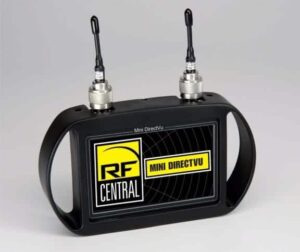 Integrated Microwave Technologies (IMT), a developer of advanced digital microwave systems, has announced the launch of its Mini DirectVu Handheld Video Assist COFDM Diversity Receiver.
The Mini DirectVu was designed to provide high quality and reliable wireless video links in both line-of-sight (LOS) and non-line-of-sight conditions, making it well-suited for use in fluid, high-mobility situations. It is a compact, lightweight, battery-powered unit that is ruggedized to provide maximum portability.
"We based the new Mini DirectVu on our existing nine-inch DirectVu, which allows us to provide an unequaled value in a high-quality COFDM receiver/monitor for law enforcement operations, ENG (Electronic News Gathering), confidence monitoring, sporting events and video-assist applications," says John Payne IV, president of IMT. "Today, with wireless video being used in more and more situations, including UAV (Unmanned Aerial Vehicle) applications, we're offering a product that has a smaller form factor and a touch screen LCD. This makes it ideal for use in tactical public safety settings, as well as for creatives who want to make sure they get outstanding images with minimal setup and hassle. Overall, it was designed with the user and their application in mind."
George Schmitt, CEO and Board Chairman of xG Technology, said, "IMT's Mini DirectVu receiver is ideal for providing immediate and reliable reception to users requiring maximum mobility. It is equally compelling as a tactical device in critical situations as it is for capturing broadcast news and sporting events, making it adaptable to a wide variety of use cases."
The Mini DirectVu is a COFDM (DVB-T compliant) dual-input maximal ratio combining diversity handheld receiver with an integrated five-inch high brightness touch screen LCD display. It offers both MPEG-4 (H.264) and MPEG-2 high profile auto detect decoding.
When paired with IMT's RF Central microLite wireless camera transmitter, the Mini DirectVu offers a comprehensive, rapidly-deployable video and audio solution that enables advanced situational awareness. It also has optional AES decryption capabilities that make it well-suited for applications ranging from public safety monitoring to covert surveillance.
Optional add-ons include DVR record and playback functionality, using standard playback controls, and a built-in Real Time Streaming Protocol (RTSP) server that enables video streaming over Ethernet for remote software or hardware decoders. This allows multiple remote viewers to monitor the same video simultaneously.