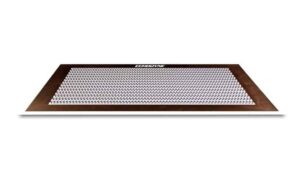 Echodyne Corporation, a developer of high-performance radar solutions, has announced the development of MESA-DAA, an Airborne Detect and Avoid (DAA) radar for small to medium-sized unmanned aircraft systems (UAS). The small, lightweight, and low power DAA radar will operate at K-band and be capable of rapidly scanning a broad field of view in azimuth and elevation at ranges out to 3km. MESA-DAA is based on Echodyne's patented Metamaterials Electronically Scanning Array (MESA), which offers cost, size, weight, and power (C-SWAP) improvements over traditional electronically scanning array technology.
"Detect and avoid is the single biggest technical hurdle to opening up the National Airspace System to UAS," said Jim Williams, former head of the Federal Aviation Administration's (FAA) UAS Integration Office and current Principal at Dentons US, LLP and Echodyne advisor. "NASA, the FAA, industry, and academia have spent years studying the DAA problem and have determined radar is by far the best sensor, if not the only sensor, capable of providing the all-weather, long-range, and broad field of view scanning that is necessary for safe, highly reliable DAA. MESA-DAA technology may well represent the key to safely opening up airspace for beyond visual line of sight operations."
One of the FAA's central aircraft operating rules is that pilots maintain vigilance so as to see and avoid other aircraft. To fulfill this requirement, UAS need to remain within visual line of sight of their pilot. Although the regulations for UAS are still in development, there is widespread acceptance that for UAS to fly beyond line of sight of their operator, they will need DAA sensors and systems that safely replace the pilot's see and avoid capability. This DAA capability will need to detect both cooperative objects (those transmitting their position with a transponder) and non-cooperative objects (aircraft without transponders, birds, etc.).
Radar is the only sensor capable of reliably performing DAA in all weather conditions and at the ranges, broad fields of view and scanning speeds necessary for safe operation of UAS in the NAS. Radar is the only sensor that directly measures the position of an object (i.e., range, azimuth, elevation) as well as its relative speed of approach (via Doppler).
"We believe MESA-DAA will be a critical technology for safely opening up the National Airspace System to small UAS for beyond visual line of sight operations," said Eben Frankenberg, founder and CEO of Echodyne. "Radar is the sensor of choice for DAA, but existing radar technology is too slow, too bulky, and too expensive to provide DAA radar capabilities on small UAS. The C-SWAP characteristics of MESA and our DAA radar are completely unparalleled and uniquely well suited for small UAS."
MESA-DAA is based largely on Echodyne's existing MESA-K-DEV radar. Package size and weight are expected to be less than MESA-K-DEV—especially if the unit is placed inside the UAS. Range is expected to be 3KM, and scanning speed is expected to be 1Hz for the entire field of view and as fast as 10Hz for updating locations on previously detected objects. The field of view for a single unit is expected to be ±60° in azimuth (120° total) and ±45° in elevation. Multiple units can be combined if greater field of view is desired.