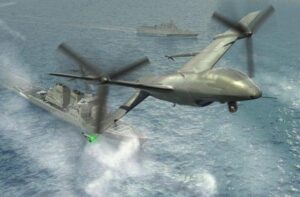 Moog Inc., a developer of precision control systems, has announced that its Aircraft Group has been selected by Northrop Grumman Corporation to supply the complete flight control actuation system for the Tern unmanned aircraft under development through a joint program between Defense Advanced Research Projects Agency (DARPA) and the U.S. Office of Naval Research. Under the contract, Moog has been tasked to design, qualify and manufacture the flight control actuation system for the full-scale demonstration aircraft, including flight control actuators, actuator-control electronics and accessories.
Tern seeks to develop an autonomous, unmanned, long-range, global, persistent intelligence, surveillance, reconnaissance (ISR) and strike system intended to safely and dependably deploy and recover from small-deck naval vessels with minimal ship modifications. As the prime contractor for the program, Northrop Grumman is developing an innovative design that seeks to integrate vertical take-off and landing transitioning to an efficient flying-wing for cruise, with the goal of achieving revolutionary performance objectives in support of combatant commanders.
The Moog flight control system includes redundant actuation for vertical take-off and landing and cruise flight. Moog also intends to provide proprietary actuator-control electronics and flight-critical software under the development program. The Moog solution leverages heritage, proven designs to minimize program risk and reduce lead times, with initial product deliveries scheduled for under 12 months from contract award.
"We have been working with Northrop Grumman on unmanned aircraft flight controls for more than a decade and are delighted to have been selected as a key system supplier on this platform," said Tim Baptist, Aircraft Group Vice President of Military Aircraft. "Our selection is the culmination of a lot of hard work and underscores our reputation as a leading supplier of innovative and affordable flight control solutions to the global aircraft market."