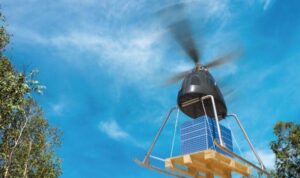 e.Yo Copter, a startup technology firm, has announced that it is developing a multi-mission unmanned helicopter. The e.Yo 400 is currently in experimental prototype stage, and will be exhibited at the AUVSI Xponential exhibition in New Orleans.
e.Yo Copter's aircraft utilises a turbo prop design. By utilizing the jet engine's hot gases that are directly ejected at the tip of two opposing duct pipes, a rotation force is generated, which rotates the helicopter's blades. This fluid force transmission eliminates the need for gears and transfer boxes, pulley belts and shafts, and thus eliminates the need for an antitorque tail rotor.
e.Yo Copter can lift, transport and deliver bulky and heavy loads at a minimal cost, without the need for a pilot or crew. It can take on a variety of civilian and military applications, such as construction, offshore and remote location supply, and search and rescue.
Specifications:
Engine: JetCat P400 /P550
Rotor: 5.60m
Empty weight: 62kg
Maximum takeoff weight (target): 360kg