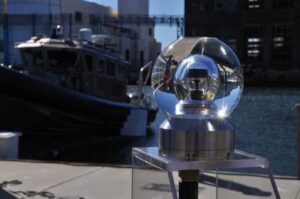 Battelle, a developer of undersea technology for the oil and gas and defense markets, has announced that it will demonstrate its HorizonVue 360 interactive camera and viewing software at the Oceanology International conference in London. The video system is now available for sale or rental through Seatronics Ltd., a specialist in marine electronic equipment.
The camera's unique viewing capability and interactive video provides situational awareness that allows ROV operators to inspect subsea equipment and to perform detailed tasks in complex operating environments with increased efficiency and effectiveness. In addition, the system includes full-view playback and interactive software for further review back on shore. The full coverage of the work area eliminates the need for sifting through hours of recorded video waiting for something to come into the view of a pan and tilt camera.
The single camera system, which is depth-rated to 4,500 meters, allows operators to capture the same view that would normally require six to nine regular cameras. It also gives the user a virtual pan and tilt capability with no moving parts.
"The system has been generating excitement from our partners after reviewing the data collected during demonstrations, and changing the way they look at survey data packages," said Matt Gusto, a Battelle research scientist. "Recently, we successfully demonstrated it with Technip, USA, at a depth of 2,200 meters in the Gulf of Mexico where we inspected risers, pipelines, and a variety of other subsea oilfield equipment."