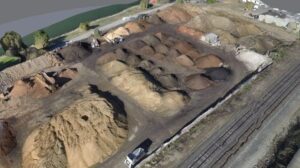 3D Robotics, a manufacturer of unmanned aerial vehicles (UAVs), and Autodesk, a developer of 3D design software, have announced that the two companies are teaming up to develop a new UAV-to-cloud solution for enterprise field professionals within the construction, telecom, survey, mapping, energy and infrastructure industries, using Autodesk's Forge Platform. The Forge platform consists of a set of Autodesk cloud services, APIs, and SDKs for developers to quickly create data, apps, experiences, and services.
"Capturing site data today is costly, time consuming, and often dangerous. Drones can easily go where it's inefficient or unsafe for field personnel, making it easier to accurately measure our world so we can better manage it," says Chris Anderson, CEO of leading drone maker 3D Robotics.
Anderson describes that by leveraging the Forge platform, 3D Robotics is able to deliver "a complete solution for site capture that will help business customers save time and money and will take humans out of harm's way."
3DR is using Autodesk's ReCap Photo Web application programming interface (API) to develop a reality capture solution that allows field professionals to quickly and easily perform inspections, surveys and scans of work sites from its unmanned aerial vehicles (UAVs). For example, in the case of telecom inspections that involve climbing tall towers, 3DR's SOLO drone will capture data, then process it in the cloud using Autodesk ReCap, eliminating the need for personnel to risk injury.
Once processed by the Autodesk ReCap engine, the reality data (3D point cloud, 2D orthographic views, 3D mesh) is made available on A360, an Autodesk cloud platform, from where it can be downloaded to be used by Autodesk software to help field professionals with monitoring sites, measuring stock piles, getting the as-built context, survey and mapping, and more.
"We are excited to collaborate with 3D Robotics to help field service professionals collect information and make insightful decisions across a variety of industries," said Amar Hanspal, senior vice president, Products at Autodesk. "From the integration of Site Scan and Autodesk cloud services, to their use of the Forge platform, 3D Robotics is opening up new ways of working for our architecture, engineering and construction customers."