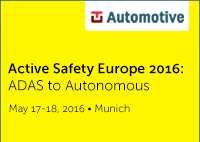 TU-Automotive has announced that senior executives from Volkswagen, Peugeot Citroen PSA, UNECE and The UK Department of Transport will speak at the Active Safety Europe 2016: ADAS to Autonomous Conference & Exhibition in Munich this May, to share their expertise on cutting-edge active safety developments in the vehicle.
The automotive industry is changing fast. With more connectivity and vehicle autonomy, the role of traditional vehicle technologies are changing, with ADAS at the forefront of the revolution. In light of this, TU-Automotive has published the eagerly anticipated agenda for the Active Safety Europe 2016: ADAS to Autonomous Conference & Exhibition (17th & 18th, Munich) focusing on enabling the next phase in automotive safety. View the full agenda.
Conference organiser, Jack Fowler says: "Active Safety Europe is the most comprehensive and relevant look at what is happening in the 'here and now' of ADAS and active safety. This event brings together the automakers, suppliers and tech innovators to look at the real changes and findings occurring in research labs and engineering departments across Europe as we roll towards an exciting future of autonomous cars."
This event is Europe's leading ADAS tech forum with the most relevant and in-depth agenda assessing the path from ADAS to autonomous. Topics include sensor redundancy and the software stack, the 360° view of the vehicle, new legislation, the challenges around liability, cyber security for increasing complexity, the HMI of level 3 vehicles, plus much more.
The full agenda and speaker line-up can be found here: http://www.tu-auto.com/activesafety-europe/
Europe's ADAS Elite Confirmed to Speak
Active Safety Europe 2016 has already attracted significant attention from the leading ADAS experts across Europe and is the best place to learn and network in 2016 with over 150 attendees and 30 speakers.
Speakers include:
• Lennart Bendewald, Head of HMI for driving and assistance, Volkswagen Group Research
• Thierry Le Hay, Director of Innovation, PSA Peugeot Citroen
• Francois Guichard, Manager – UN Secretary – Active Safety, UNECE
• Iain Forbes, Head of Centre for Connected and Autonomous Vehicles, Department of Transport
• Tim Leinmuller, Info and Safety Engineering,DENSO
• Nicolas Dulac, CEO, Intempora
• Jennifer Dungs, Institute Director, Fraunhofer IAO
• Matthew Avery, Director of Insurance Research,Thatcham Research
• Dr. Christoph Lauterwasser, Managing Director,Allianz Center for Technology
• Dr. Alain Dunoyer, Head of Safe Car, SBD
• Wim van Thillo, R&D, IMEC
• Dr. Wolfgang Bosch, Institute of Microwave and Photonic Enginnering, Graz University of Technology
Enter the following discount code during online registration to save €100 on all conference passes: 4517UST. Find out more and register online >