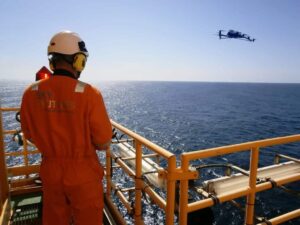 Bristow Group Inc., a provider of offshore helicopter services, and Sky-Futures, a provider of drone inspection services for the oil and gas industry, have announced that Bristow has invested $4.2 million in Sky-Futures. This investment gives Bristow immediate entry to the fast-growing unmanned aerial vehicle (UAV) services business and bolsters Bristow's offerings to include drone inspection services.
The investment, which also includes an exclusive partnership agreement, gives Bristow access to Sky-Futures' UAV inspection operational expertise, data capturing and analysis technology, and training capabilities. Bristow will have one representative on Sky-Futures' board.
"In this new market reality where continued cost pressures compel companies to find new solutions, our investment in Sky-Futures puts Bristow at the forefront of offering innovative solutions that help our mutual clients achieve further efficiencies in their operations," said Bristow Group President and CEO Jonathan Baliff. "Through our partnership, we will collaborate with Sky-Futures and its leading safety culture, operational integration, and analysis technology to capitalize beyond the growing need for global UAV inspection services in oil and gas to other industries, including search and rescue.
"This agreement is another example of how Bristow is taking proactive steps to differentiate itself and capitalize on strategic growth opportunities that are aligned with our core values and competencies," said Baliff.
James Harrison, Sky-Futures CEO and co-founder said, "This partnership between Bristow and Sky-Futures enables us to rapidly expand the operational delivery of drone based inspection services in the global oil and gas market. We're really excited because it allows us to enhance our advanced technology platform that powers industrial data capture and analysis, providing our clients with increasingly valuable and actionable information."