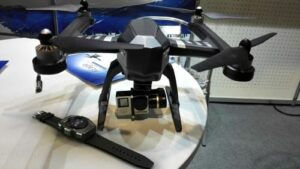 Flypro, a manufacturer of VTOL unmanned aerial vehicles (UAVs), has announced that the company has developed a version of its XEagle drone that can be controlled with the user's voice. The drone was unveiled at a press conference at the Consumer Electronics Show in Las Vegas.
The XEagle is a line of UAVs that can be controlled via a smartwatch – pressing a function key on the smartwatch makes "one key control" of such tasks as landing, following, 360° circles and other manipulations possible. This latest model also incorporates accurate speech recognition to follow user voice commands.
With the ability to record at speeds of up to 15 m/s, the drone is targeted towards the sports photography market, and also possesses a smart gimbal follow function, ensuring that people being filmed will always be in the center of the screen.
The XEagle also features an automatic obstacle avoidance function, which is effective when the obstacle is at a distance of 0.1 to 15 meters from the drone, with relative velocity of 12 meters per second. Other intelligent security features also add to the overall flight safety.