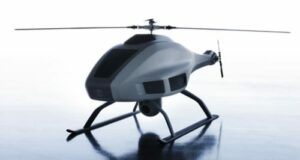 Saab, a defence and security company, and UMS Aero Group AG, a Swiss supplier of tactical unmanned aerial vehicles (UAVs), have announced that the two companies are forming a joint venture under the name UMS Skeldar AG. UMS Skeldar will strengthen Saab's offerings in the tactical UAV market. Saab will transfer all assets relating to its Skeldar unmanned helicopter to UMS Skeldar.
UMS Skeldar is a multi-skilled enterprise with all the capabilities necessary to manage and deliver UAV programmes. This includes development, manufacture, testing, training and maintenance of the air vehicles plus all associated systems such as ground stations, communications links and data terminals. Saab's holding in UMS Skeldar amounts to 47 per cent.
The UMS Skeldar product portfolio consists of four certified vehicles in the 20-250 kg weight range. Alongside the Skeldar unmanned helicopter are two fixed-wing UAVs and another rotary-wing UAV.
"Through UMS Skeldar we are securing access to a portfolio that complements Saab's other investments in autonomous systems in an excellent way.This partnership brings increased focus to the marketing and sales of Skeldar and other unmanned systems. Through the joint venture we are able to offer the market a combination of the smaller company's flexibility and Saab's extensive experience within the field of aviation," says Ulf Nilsson, head of Saab business area Aeronautics.
"Our combined portfolios make it possible to meet customer requirements within several segments, whether it be defence, 'blue light forces' or civilian customers," says Jakob Baumann, CEO at UMS Skeldar.
UMS Skeldar's operations will involve approximately 55 employees. The head office will be located in Möhlin, Switzerland with an office also established in Linköping, Sweden.