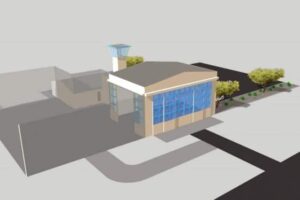 Aerodrome, a provider of aviation services for unmanned aircraft systems (UAS), and its partner, the City of Boulder City, NV, have announced what they have claimed to be the world's first commercial droneport and teaching facility in Boulder City, NV. Unlike other planned droneport projects previously announced, Aerodrome's Eldorado Droneport has already broken ground, is fully funded, permanent and currently operational. The project has the full support and approval of the Federal Aviation Administration (FAA).
"Unmanned air systems are inherently different from manned aircraft and require a whole new type of expertise in order to be executed safely," said Jonathan Daniels, president of Aerodrome. "This historic development has far-reaching implications, and will bring with it new aviation business opportunities, jobs and a profound new reputation for the U.S. as the world's leader in Unmanned Air Systems."
"There are currently over 2,500 companies in the U.S. with FAA 333 exemption to fly commercial drones, and only one place in the world where they now take priority over manned aircraft. This droneport is the model for the rest of the country, if not the world."
The 50-acre Eldorado Droneport in Boulder City, NV is located approximately 28 miles from the Las Vegas Strip and is one of only six FAA-appointed UAS test sites in the country. Aerodrome is also environmentally conscious and will generate its own solar power to operate the massive facility.
"This is an exciting day for the City of Boulder City and the State of Nevada, to be the site of and partner with Aerodrome on the world's first commercial droneport," said Brok Armantrout, director, Community Development Department, City of Boulder City. "As one of only six FAA-approved UAS test sites in the country, we are more than prepared to meet the expectations that will come with being the world's first droneport, and we welcome those opportunities enthusiastically."
The Eldorado Droneport, which is open to the public but privately operated, offers training for UAS; provides FAA repairman and pilot certification and testing; and offers a variety of other educational, research and development services. E-learning programs are currently taught from the Aerodrome campus in Henderson, NV as well as hosting satellite programs for participants not able to attend in person. The droneport can support civil entities with section 333s and special airworthiness certificates. It will also support hobby and recreational model aircraft flight, including specially-made drone racing courses.