The first dronetech conference is taking place at the Watershed in Bristol on 26th November 2015. This full-day event will deliver topic-led presentations and discussion on the future of commercial drone technology; from aerial photography & filming, emergency response, agriculture & farming to environmental monitoring & climate change.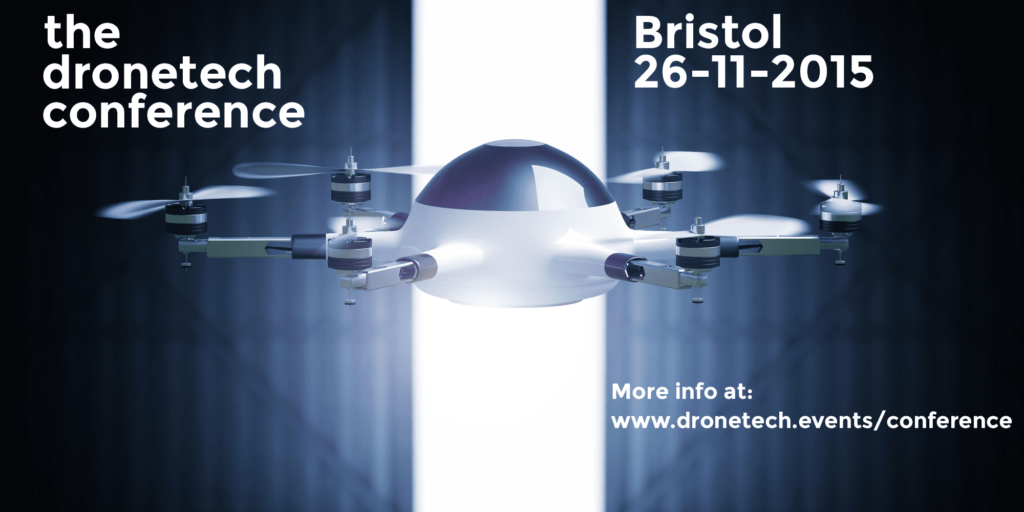 Sharing insights from their early adopter experience, a unique blend of speakers will take to the stage, including:
Colin Jackson, Innovation Producer at BBC Natural History Unit,
Tero Heinonen, CEO/Founder, Sharper Shape Ltd,
Dr. Monica Rivas Casado, Lecturer in Applied Environmental Statistics, Cranfield University
Dr. Ian Hales Research Associate in 3D Computer Vision, Bristol Robotics Laboratory.
The conference will cover three key elements in deploying drone technology in business:
Inspiration: Who's doing it well now?
Application: How can the new technology be used?
Regulation: What's the legislation behind using drone technology in the UK
When asked why now is the right time for businesses to discover what kind of disruption drone technology can bring to their industries, Richard Potts, founder of Whisper Media – the start up behind the event, said:
"When I first set up Whisper Media the idea was to shine a light on benevolent disruption – showcasing technology with a positive socioeconomic and or environmental impact. As I was researching green tech, disaster relief, sustainable building and other sectors, I found that the common denominator in technological innovation was the development and deployment of drones. It's a perfect match for Bristol and the South West – European Green Capital, The Robotics Hub, our creative heritage, and of course the way the people of the city rallies support those affected by humanitarian disasters around the world. This is the perfect place and time to showcase the impact drone technology can have and make Bristol the centre of it all."
UST readers will receive 20% off delegate tickets (applies to drone operators/manufacturers/consultants; end users can attend for free). Simply enter the discount code "utc20" on the ticket: http://bit.ly/1MIri6E