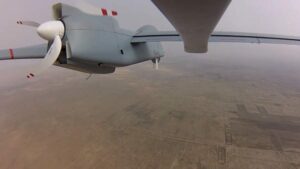 Airbus Defence and Space has announced that one of its Heron Unmanned Aerial Systems (UAS) has completed 25,000 flight hours in Afghanistan, following this year's 410th flight on 16 November.
The Heron, which is jointly operated by the German Air Force (Luftwaffe) and Airbus Defence and Space, successfully landed in Mazar-e-Sharif in northern Afghanistan. The occasion was celebrated at Camp Mazar-e-Sharif together with the Luftwaffe.
The Heron UAS delivers valuable intelligence and surveillance data round-the-clock to the German Armed Forces (Bundeswehr) for its 'Resolute Support' mission in Afghanistan. The UAS's satellite data link makes it possible to monitor the entire northern half of the country – which, at over 300,000 square kilometres, is almost the size of the Federal Republic of Germany. The UAS thus makes a meanwhile invaluable contribution to protecting soldiers and the civilian population in Afghanistan.
Ralf Hastedt, Head of Sales at Airbus DS Airborne Solutions, underlines: "With this system the Luftwaffe is performing leading services in comparison to other nations. A great number of operators and maintenance personnel both from the Luftwaffe and industry have now been trained to use this UAS, and the experience we have gained on a national scale will certainly prove useful for other mission and when using future MALE UAS."
The UAS's availability for carrying out long-term surveillance and reconnaissance operations from the air via real-time video is an essential criterion for all operations in the region. The high degree of acceptance is not least thanks to the hard work of the on-site maintenance team, which ensures the operational readiness of the aircraft and ground stations 24 hours a day, seven days a week.