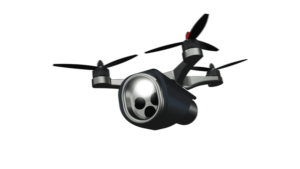 Galileo, a developer of unmanned systems for security applications, has announced Alpha, the company's first autonomous drone for property security. Alpha uses advanced technology like LIDAR, wireless charging, and an IR camera to give the user unlimited camera angles, quick response times, and a high level of situational awareness.
"I'm thrilled to release the Alpha after a year of development," said Joshua Sanabria, Galileo's CEO. "Speaking to customers and security providers about what they need in a new device has lead our work from the start."
Galileo sees the Alpha as an essential tool for commercial and high-end residential customers to reduce false alarms, keep human security officers out of harm's way, and improve security decision making.
"This is the future of security," said Mike Jackson, President of Security Research Group.
The Alpha flies autonomously, combining automated patrols, way-points, and object tracking. The drone is capable of responding to alerts from a user's existing security system or Galileo's sensor nodes. When Alpha responds to an alert it begins streaming audio and video to the user's smartphone and security provider while flying above the alert area.
"The user is now empowered to take action and get the complete story about what is happening on their property," said Joshua Sanabria, CEO of Galileo.
The Alpha will flash its lights and play messages designed to scare off intruders. The user can also talk into their smartphone and out through the Alpha if they wish to communicate directly with the intruder. After dealing with an incident, Alpha autonomously flies back to base to charge and be ready for the next alert.