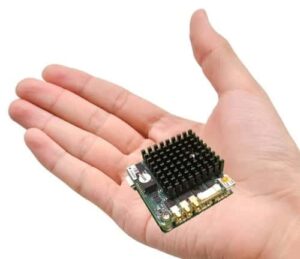 Antrica, a supplier of H264 video encoding and streaming solutions, has announced the ANT-1772 UAV MICRO, the company's latest multichannel encoder for airborne and ground drone encoding and streaming applications over IP. The company claims that the ANT-1772 UAV MICRO is the world's smallest dual-channel H.264 HD/SD encoding or decoding solution, weighing less than 43 grams.
The ANT-1772 Micro is ideal for the high-performance requirements of manned and unmanned airborne platforms, unmanned vehicles, and other robotic units. The ANT-1772 consumes less than 4 watts of power for 1080p30 encoding plus simultaneous PAL /NTSC encoding.
The ANT-1772 UAV MICRO features simultaneous low-latency streaming of two sources from HD-SDI and analog composite signals, together with 2-way serial data, audio and Micro SD card recording on board.. The miniature 45 x 45 x18mm board can be integrated easily into a drone design and offers extended temperature and voltage range for operation. As well as encoding, the unit can act as a hardware decoder, with HD-SDI, Micro HDMI and Composite outputs.
"Antrica has been providing an extensive range of video encoding and decoding solutions to a variety of applications and markets for over 15 years. The ANT-1772 is Antrica's first solution specifically designed for the UAV/Drone market and meets new standards for miniaturization," said Les Litwin, Sales Director of Antrica.
ANT-1771 UAV MICRO is available as a PCB module for integration into UAV systems. The unit will be on display during the ISE show in Amsterdam.