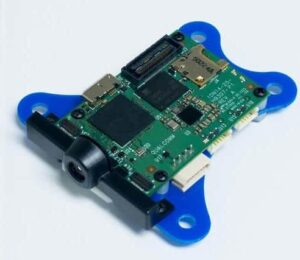 Qualcomm Incorporated, a developer of wireless technologies, has announced the Qualcomm Snapdragon Flight, a platform based around a highly optimized 58x40mm board targeted specifically for consumer drones and robotics applications. Qualcomm Snapdragon Flight is based on a Snapdragon 801 processor, and provides robust connectivity, advanced drone software and development tools.
"Today, drones are made from multiple component vendors providing separate solutions for photography, navigation and communications, adding to the cost and bulk of consumer drones," said Raj Talluri, senior vice president, product management, Qualcomm Technologies, Inc. "The Qualcomm Snapdragon Flight brings together the technologies that have defined the mobile industry onto a single board, enabling OEMs to build drones that are lighter, smaller, easy to use and affordable with long battery life and superior functionalities."
Qualcomm Technologies has also announced that Yuneec, a developer of consumer and professional drones with a long history of innovation in electric aviation, will be one of the first companies to embrace the Snapdragon Flight. Yuneec plans to release a drone based on the platform in 2016.
The Snapdragon Flight features advanced processing power, real-time flight control on the Qualcomm Hexagon DSP, built-in Qualcomm 2×2 Wi-Fi and Bluetooth connectivity, and a leading global navigation satellite system (GNSS) optimized to support highly accurate location positioning. The Snapdragon Flight incorporates a wide variety of advanced features, including:
4K Video – 4K high resolution camera support, image enhancement and video processing capabilities and simultaneous 720p encoding for first person view
Advanced Communication and Navigation – Dual-band 2×2 802.11n Wi-Fi, Bluetooth 4.0, and 5 Hz GNSS location capabilities with advanced real-time flight control on Hexagon DSP
Robust Camera and Sensor Support – 4K stereo VGA, optic flow cameras, inertial measurement unit (IMU), barometer sensor support and ports for additional sensors
Qualcomm Quick Charge Technology – Supporting fast battery charging in between video/picture sessions
"Drones are enabling a broad range of applications such as aerial photography, the ultimate selfie accessory and sports filming, so the ability to shoot in 4K is a must-have feature," continued Raj Talluri. "Qualcomm Technologies is already a leader in bringing 4K video capture to consumers having over 500 device designs powered by Qualcomm Snapdragon processors with 4K UltraHD video capability, allied with the highly integrated SoC, so it's natural for us to support the same technologies in the consumer drone space."