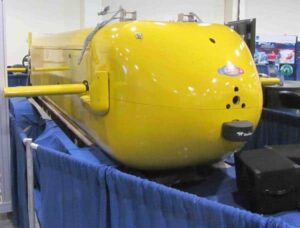 The US Naval Sea Systems Command has announced that it has received a risk-reduction decision approval, known as a Milestone A decision, for the Large Displacement Unmanned Underwater Vehicle (LDUUV) program. Milestone A approval grants the program the authority to move into the next phase of development, which will allow the Navy to commit resources to mature technology and reduce risks prior to production and fielding.
The LDUUV is a new class of large-displacement unmanned undersea vehicles that will provide increased endurance, range and payload capabilities. The system is being designed for intelligence, surveillance and mine countermeasure missions, and is based on a modular, open architecture that will allow the Navy to incrementally develop new mission sets for the craft.
LDUUV will be capable of being stowed, launched and recovered by multiple-host platforms, including littoral combat ships, Virginia-class submarines and Ohio-class guided-missile submarines. The craft is being developed by the Unmanned Maritime Systems Program Office, which is part of the Program Executive Office Littoral Combat Ships (PEO LCS).
Following the successful Milestone A decision, a draft LDUUV request-for-proposals has been released on the Federal Business Opportunities website.
PEO LCS is affiliated with Naval Sea Systems Command, and provides a single program executive responsible for acquiring and sustaining mission capabilities of the littoral combat ship class, beginning with procurement and ending with fleet employment and sustainment. The combined capability of LCS and LCS mission systems is designed to dominate the littoral battle space and provide U.S. forces with assured access to coastal areas.