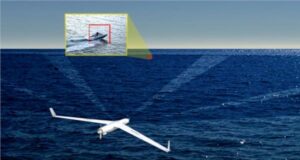 Sentient, a developer of computer vision technologies, has announced that the Royal Australian Navy (RAN) has procured a license for the company's Kestrel Maritime ViDAR (Visual Detection and Ranging) wide area maritime detection software to support RAN UAS activities. The software is designed to be incorporated into a purpose-built ViDAR payload that can be modularly applied to the existing Block D ScanEagle UAS currently being flown by the Navy.
"Kestrel Maritime ViDAR has the potential to be game changing for Naval UAS operations" said Simon Olsen, Sentient's Director of Business Development, Strategy and Partnerships. "Small payload capacity and limited bandwidth restrict tactical UAS to primarily provide surveillance over objects of interest that have already been detected".
Typically detection of objects in the ocean requires manned aircraft with much greater payload capacity – aircraft which are often expensive to operate and deploy. "Kestrel Maritime ViDAR now gives a UAS like the Scan Eagle the crucial capability to search as well as to conduct surveillance, dramatically increasing its usefulness to the RAN" said Olsen.
"The Navy is looking at the Kestrel Maritime ViDAR trials to potentially support, among other systems, wide area maritime surveillance" said Captain Allen Whittaker, RAN.
Insitu Pacific Ltd (IPL) will be trialing the Kestrel Maritime ViDAR payload for the RAN as a part of their support to ongoing Navy UAS experimentation activity. "ViDAR provides a critical point of difference for the Scan Eagle UAS enabling it to now scan significant areas autonomously in both blue water and littoral environments", said Andrew Duggan, IPL's Managing Director.