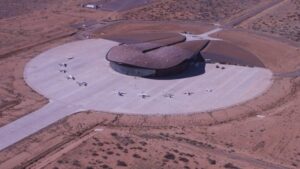 Spaceport America, a purpose-built commercial spaceport, has announced that ARCA Space Corporation, a manufacturer of space vehicles and unmanned aircraft, has selected the site for its space launch vehicle and high altitude autonomous aircraft testing.
Based in Las Cruces, New Mexico, ARCA engineers, manufactures and tests aerospace products such as the AirStrato UAS and Haas rocket series. ARCA successfully launched its first rocket, the Demonstrator 2B, in 2004 and since then has followed with a number of additional space launch milestones.
Spaceport America's facilities and access to protected airspace offer unique opportunities for test flights and experimental operations that complement the capabilities of Las Cruces International Airport and New Mexico State University's Physical Sciences Laboratory UAS Flight Test Center.
"Only in New Mexico did we find the perfect combination of aerospace assets, airspace and affordability," emphasized Dumitru Popescu, Founder and CEO of ARCA Space Corporation. "Proximity to Spaceport America and the expansive access to airspace were crucial factors in our decision to locate our global headquarters to Las Cruces, New Mexico in the United States."
ARCA Space Corporation expects to be operating autonomous aircraft testing activities at Spaceport America with space launch activity beginning in 2016.
"We look forward to our partnership with ARCA Space Corporation as the first of many hybrid air and space operators," said Christine Anderson, CEO, Spaceport America. "ARCA Space Corporation is a perfect example of how New Mexico's space nexus can be leveraged to help aerospace companies commercialize their technology while creating economic growth for our state."