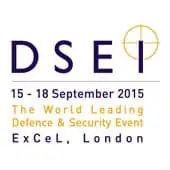 Defence and Security Equipment International (DSEI) is the largest integrated defence and security exhibition in the world and is becoming increasingly recognised as a unique venue to showcase and demonstrate the full capabilities of unmanned systems spanning air, land and sea. Hosted at London's ExCeL every two years, DSEI continues to serve as the premier meeting place for global defence and security communities.
Organised by Clarion Events, DSEI 2015 is expected to attract more than 32,000 visitors, including 150 programmed delegations from over 60 countries, and over 2,800 global VIPs. Breaking all previous records, the event is set to showcase more than 1,500 exhibitors from over 50 countries. It is the must-attend event of 2015 with more exhibitors, zones and demonstration content than ever before. Static displays will include a Watchkeeper unmanned aerial vehicle (UAV) among others.
Dedicated Unmanned Zone
Following the award winning success of the inaugural Unmanned Zone, a series of stakeholders, including the Association for Unmanned Vehicle Systems International (AUVSI), have increased their support for 2015. The result will be a much larger Unmanned Zone which will give visitors the chance to see the latest innovations in a dedicated feature area. There will also be a series of capability demonstrations from a range of air and ground-based unmanned systems responding to different threats and scenarios.
The 2015 Unmanned Zone will host the complete spectrum of unmanned system designers and manufacturers for all applications and developments across all of the military and security sectors.
Examples of current exhibitors participating in the Unmanned Zone include AIE, CES, DOK-ING, ELI Military Simulation, Galleon EC, IAT 21, Linwave, Milrem, Northwest UAV, Panvion Technology, Planet Ocean, Reamda, Rotron Power, Spectracom, Velodyne and Wolfstone. In addition to the zone, companies presenting unmanned technologies in the wider exhibition include primes such as Selex, Northrop Grumman, QinetiQ, BAE Systems and Thales.
A showcase for unmanned innovation
At DSEI 2015, DOK-ING will promote its latest MV-4 enhancements, which was originally designed as a mine clearing system but now further developed as a combat engineering system with a number of possible applications. The DOK-ING MV-4 is a tracked remote-controlled system (to a maximum distance of 2,000m) designed to clear all types of anti-personnel (AP) mines. The MV-4 is effective in clearing booby traps and dispersed munitions, area proofing, checking soil for explosives and improvised explosive devices (IEDs), and clearing hazardous roadblocks.
Irish company, Reamda, will launch its new bomb disposal robot at DSEI. Reamda's 'Reacher' robot can work in small spaces and at long distances. Until now, a major problem faced by bomb disposal experts was that robots designed to deal with larger bombs didn't have the dexterity to deal with smaller ordinances in tight spaces, like a pipe-bomb under a car; while smaller robots did not have sufficient range, putting operators in danger as they were forced to move closer to dangerous scenes.
Estonian defence company Milrem will be unveiling a prototype of its hybrid unmanned multi-mission tracked vehicle at DSEI. The unmanned vehicle is meant to assist or take the place of humans in life-threatening situations, such as war, crisis situations, high risk working environments as well as places that are difficult to access. Weighing only 750 kg with a payload of 500 kg, the unmanned ground vehicle (UGV) can be used as a remote weapon station, remote observation and sensor vehicle, wounded transport platform and many other functions that can pass through difficult terrain, be it snow, sand or swamp.
Unmanned Theatre
DSEI is pleased to announce that this year's Unmanned Air Systems (UAS) programme is being supported by the Defence UAS Capability Development Centre (UAS CDC). This UK MOD initiative aims to facilitate pragmatic and expedient test and evaluation solutions for a wide range of emerging issues ranging from operational capability problems through to studies relating to future UAS test and evaluation. Set in the heart of the zone, the Unmanned Theatre will offer a specific area especially for presentations and product briefings from the unmanned systems market.
DSEI Event Director, Duncan Reid, said: "DSEI 2015 will attract more than 30,000 quality visitors and by increasing the footplate for unmanned systems, there is no doubt that this year's event will again provide an international showcase of key products, systems and technologies that will be crucial to future air, land and sea operational capabilities. The larger Unmanned Zone, including its theatre, will be a key attraction for the many delegations and military visitors from around the world to check the latest developments in unmanned systems."
DSEI will be held at ExCeL London from 15 -18 September 2015. Pre-register your attendance online: www.dsei.co.uk.