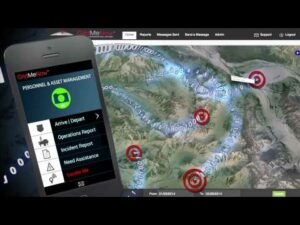 Aero Kinetics, an aerospace and defense firm, has announced a partnership with GridMeNow, a developer of a mobile platform that provides location-based digital content. Aero Kinetics plans to incorporate GridMeNow's mobile, real-time tracking solutions into the company's newest multi-rotor vertical takeoff and land (VTOL) unmanned aircraft system (UAS). This combined effort is a significant step forward for the industry where dispatching now has the ease and efficiency necessary for reliable commercial use.
"We are incredibly excited to incorporate GridMeNow's mobile technology into our UAS," states W. Hulsey Smith, Chief Executive Officer of Aero Kinetics. "We will essentially become the Uber of unmanned systems where UAS can be dispatched by mobile phone directly to your location. If you need aerial footage/support or medical supplies delivered to a remote location, GridMeNow will provide those capabilities."
Real-time event reporting and targeted communications will enhance Aero Kinetics' ability to deliver the right information to key decision makers. By integrating GridMeNow's advanced mobile solutions into unmanned aircraft, Aero Kinetics enables customers to call aircraft to their location using their mobile phone.
"GridMeNow is currently expanding and establishing partnerships with best in breed organizations focused on improving real-time situational awareness. Partnering with Aero Kinetics creates the first ever, on-demand UAS mobile ecosystem and aligns with our mission statement and goals," said Adam Tolk, Chief Executive Officer, GridMeNow.
Aero Kinetics' focus on the critical infrastructure protection, disaster/emergency response, and border security aligns a common cause with GridMeNow's focus on safety and security. Aero Kinetics continues to offer a unique leasing model for the corporate customers to quickly adopt and integrate a comprehensive unmanned solution that includes maintenance, service, and training.