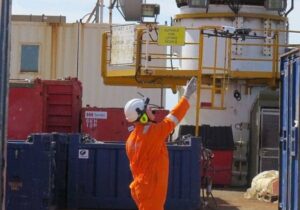 Sky-Futures, a specialist oil and gas Unmanned Aerial Vehicle (UAV) inspection provider, has announced the launch of two new services to inspect and monitor offshore installations in the North Sea.
The Rapid Response Service, available to operators and contractors in the North Sea, will mobilise an inspection team from Aberdeen within 48 hours. This will enable asset managers to make rapid assessments of their installations in order to minimise risk to personnel and prevent unnecessary shutdowns in production.
With the Safety Overwatch Service, a UAV provides real-time video and high-definition recording of heavy lifting or other topside operations. This provides an additional layer of safety to various operations both onshore and offshore that was previously unavailable. Clients have the option of viewing operations through electronic goggles.
The expansion in services offered comes after the opening of a new office in Aberdeen and completion of a series A funding round that saw the company raise the largest ever investment into a drone business in Europe to date of USD$4M+.
"With aging assets and the current drop in oil price, Sky-Futures understand that now more than ever, preventing loss of production is critical. Our UAV Inspection Service is available at short notice, and for preventative routine maintenance of assets, both safer and more cost-effective than previous techniques," said Steve Moir, Sky-Futures Engineering Manager, who will lead the new Rapid Response Service.
Sky-Futures has worked with many of the biggest oil and gas companies, and offers drone inspection services around the world, with over 8,500 hours of aviation experience. High definition video, stills and thermal imagery data collected by the drones is fed into the company's proprietary data platform, analysed and delivered to the client as a technical report. Each part of this process is overseen by Sky-Futures' highly qualified, in-house team of global industry experts in flare systems and structural engineering.