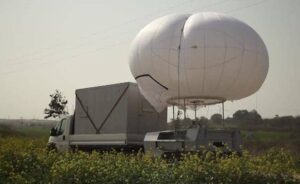 RT LTA Systems Ltd., a designer and manufacturer of unmanned aerostat systems, has announced that it has launched a new enhanced version of the Skystar 180, a small sized, mobile aerostat designed for tactical mid-range surveillance and public safety, police and military applications.
Based on a towable trailer, the system has a stabilized day/night electro-optical payload suspended from a helium filled aerostat, tethered to a ground system. It operates continuously at wind velocity of up to 40 knots, and can lift a payload of up to 20kg. The aerostat provides surveillance coverage from an altitude of up to 1,000 ft., for up to 72 hours, after which it is brought down for a 30-minute helium refill. Only 2 people are required to fully maintain the system.
The enhanced system includes a new upgraded TR-stamp payload, manufactured by Controp, which features an improved stabilized day/night electro-optical payload. This allows for wider detection ranges: 5 KM range for a man target and 7 KM for a vehicle.
The enhanced Skystar 180 system also includes an upgraded navigation system with high capacities that include point on map ability as well as advance controllers, allowing better control and management of missions and targets.
The Skystar 180 aerostat is used for intelligence as well as civil purposes in many countries, and is being used continuously by the IDF on the border with the Gaza Strip. For civil purposes, the Skystar 180 system has been used in Brazil during the 2014 FIFA World Cup and in Israel during the visit of the Pope Francis.