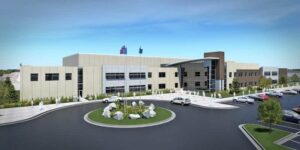 Grand Sky, a UAS Business and Aviation Park in Grand Forks, North Dakota, has announced that it has chosen the VirtualAirBoss™ (VAB) management software, developed by aviation technology firm SmartC2, to help manage its UAS flight operations. VAB is designed to securely manage complex aviation business operations, meeting the safety and reporting goals for Grand Sky as well as the ability to integrate with NASA's Unmanned Traffic Management (UTM) system.
"We are establishing a new home base for drones in the U.S., and we want to start flying right away to document the construction in progress," said Thomas Swoyer, Jr., President of Grand Sky Development Company. "SmartC2 totally understands the complex challenges we face at Grand Sky, and they simplify it," says Swoyer. "With VAB we have detailed accountability, and we can easily create whatever reports we need. They have automated many tedious administrative tasks like COA reporting. This is a fantastic tool for us to provide to our tenants. It's easy to use and VirtualAirBoss delivers the information we need to run a smooth operation."
Stuart Rudolph, President and CEO of SmartC2, and inventor of the VirtualAirBoss, says, "Users want a solution that is intuitive, and gets a complicated job done right. In a single VirtualAirBoss site, you can handle manned, UAS, small, large, and optionally piloted aircraft. We believe that capturing the information you'll need for compliance reports and reimbursements should derive organically from your workflow," says Rudolph.
VirtualAirBoss is integrated with NASA's UTM system, and Grand Sky has agreed to participate in the UTM beta testing. Multiple, simultaneous flights from Grand Sky's airfield will provide flight data to help NASA further develop its UTM system to manage UAS for the nation.