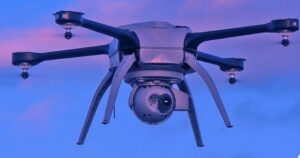 Aeryon Labs, a manufacturer of unmanned aircraft systems, has announced that the Aeryon SkyRanger small Unmanned Aerial Vehicle (sUAV) has become the first sUAV to conform to the requirements established by Transport Canada for UAV system airworthiness and design.
Companies using UAVs for any civilian application in Canada, unless they qualify for an exemption, must first secure a Special Flight Operations Certificate (SFOC) from Transport Canada, which typically has an approved term of one year and is issued on a regional basis.
When applying for an SFOC for a Compliant Operator, applicants are required to meet a number of criteria. They must demonstrate that they are a compliant organization with qualified personnel operating a compliant small UAV within visual line of sight. Successful organizations may be granted greater geographical flexibility (including Canada-wide) and longer SFOC validity periods (up to 3 years). Qualifying commercial organizations that achieve a Canada-wide three-year SFOC will benefit through fewer applications and reduced administrative burden.
Since the Aeryon SkyRanger meets the criteria established by Transport Canada, organizations utilizing this sUAV fulfill a critical element of the application process to obtain an SFOC as Compliant UAV Operators in accordance with Staff Instruction 623-001.
"UAVs offer tremendous potential for innovation and job creation," said the Honourable Lisa Raitt, Minister of Transport. "As Minister of Transport, I want UAV operators to be able to use these fascinating devices while flying safely and respecting the law. The Special Flight Operations Certificate process offers a balanced approach that protects Canadians while encouraging growth in this fast-developing sector."
"Aeryon is proud that SkyRanger can be specified as a compliant UAV, reinforcing the important distinction between aviation-grade systems such as SkyRanger, and other hobby-grade systems in the sUAV market today," said Dave Kroetsch, President and CEO, Aeryon Labs. "As a compliant UAV, SkyRanger can be used by organizations in Canada to undertake complex and sophisticated airborne operations, all with the confidence that the system meets Transport Canada's standards for safety, airworthiness and performance."
Michael H. Cohen, President, Industrial SkyWorks said, "Serving industrial and commercial clients in Canada and worldwide safely and efficiently in a highly regulated industry requires the use of robust, reliable commercial-grade UAVs. SkyRanger's designation as a compliant UAV reinforces our decision to use such high-quality systems that also deliver compliance within Transport Canada's airspace and safety regulations."